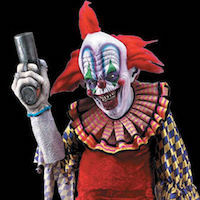 how can i have a near death experience
without dying?
neen, they are near death experiences
because you don't die
you only die nearly
yeah, but what if the car accident
decapitates me instead of just
nearly killing me
what then?
oh, well, how about night school?
a dream
yes, a dream
can you come into my dreams and do that?
maybe not but I can send someone who can
who?
well, as you know,
they're not someones, really
no bodies right?
they're typically a group of spirits
and it helps to have a name
so how about Melissa?
i knew a Melissa once
and everything i ever
said was wrong
i just couldn't do anything
right around her
this will be different
i promise
how do you know "them"?
they've been teaching me,
helping me
do what?
dispel my body
disassociate my sense of oneness
egos are hard to give up huh?
yes they are
now,
what kind of near death would you like?
not a car accident
what about if a tree falls
and it knocks me out
but all i get is a concussion?
think harder
that doesn't qualify as a
near death experience
one of the scary clown faces
shoots me in the ribs
it just misses my heart
and passes all the way through me
you got it
I'll send in your order.
please make yourself available
it's halloween
shouldn't be difficult