I'm happy to report that our favorite up and coming player, Benjamin Becker, is into the U.S. Open draw as a qualifier. Since his first round loss at Los Angeles he's climbed from number 140 to 112 by playing well in challenger events.
I don't really expect Nadal to be in the final but I can't see anyone who can beat him.
It was crazy last week in New Haven. Blake went out in the second round after throwing away five match points while Nikolay Davydenko got to the final. When was the last time Davydenko was in a final on outdoor hard court – let's see, Adelaide in 2003.
Yep, it's time for the U.S. Open again. Is Blake ready to duplicate his exceptional run to the semifinals in last year's Open? Doesn't look good. If Blake gets to the second round he could face Tamuraz Gabashvili who beat him in their only previous meeting. If Blake gets to the third round he could face Agustin Calleri who also beat Blake in their only meeting, is also in the New Haven final, and is 17-3 in his last twenty matches. If Blake gets to the fourth round he could face Tomas Berdych. Blake beat him in Washington last year but this year I don't think so.
If Berdych and Dimitry Tursunov meet in the third round, it will be flat-shot heaven with two of the harder hitters in the game. Berdych is hard to classify. This year his best results have been on clay and grass while he's been slightly better than average on hard court. I've been all over him because he hasn't played top ten players very well but he's only 21 years old and it may take his game longer to develop because he can play on all surfaces well. Berdych has a slightly better record than Tursunov so I have him in the quarterfinals.
I planned to save Nalbandian for the slams because he's usually a fixture in the semifinals, but if Marat Safin makes it to the second round against Nalbandian that could be trouble because Safin has a 5-1 career record against him. Olivier Rochus has beaten Safin both times they've met this year. Not that Safin is in much shape to go far. His own coach, Peter Lundgren, recently took a shot at Safin about his conditioning.
If you have any David Ferrer uses left in the ATP fantasy game, consider that Robin Soderling is 3-0 against him on clay, grass and hard court.
I have Gasquet over Ljubicic in the fourth round. The best Open Ljubicic had was the third round last year. Where he lost to Gasquet.
Fernando Gonzalez against Andy Murray in the fourth round is hard to pick. If Gonzalez doesn't unravel emotionally he could take it, particularly since Murray is getting tired from going so deep into tournaments, but I'm going to guess that Brad Gilbert, Murray's coach, can maneuver his client around Gonzalez. How often do we ascribe a victory to a coach? Not only that but Murray has been to the finals, semifinals and the quarterfinals since hooking up with Gilbert so I have him in the semis where he loses to Roger Federer.
Now is the time to use Marcos Baghdatis, the grand slams are his performance space. He got to the final of the Australian Open this year and the semifinals at Wimbledon. I just realized he's up to number eight in the world, that's what happens if you play the slams well. Can he beat Gasquet if they meet in the quarterfinals? Since it's a slam I'm going to say yes but I expect Gasquet to join Baghdatis in the top ten one day soon.
I don't really expect Nadal to be in the final but I can't see anyone who can beat him. I suppose Baghdatis is a good candidate but Nadal has beaten him on hard court and grass this year. Federer could lose to Berdych, maybe, but Murray's not in good enough condition to beat Federer.
My eight quarterfinalists are: Federer, Berdych, Tommy Haas, Murray, Baghdatis, Gasquet, Soderling and Nadal. Robredo might be worth a try too since Soderling and Robredo are in the weak part of the draw.
How many of you think it will be a Federer-Nadal final? How many of you think Baghdatis knocks off Nadal? Will Nadal get that far? Whaddya say?
You can read last week's picks here.
You can read about Marcos Baghdatis at the Australian Open here.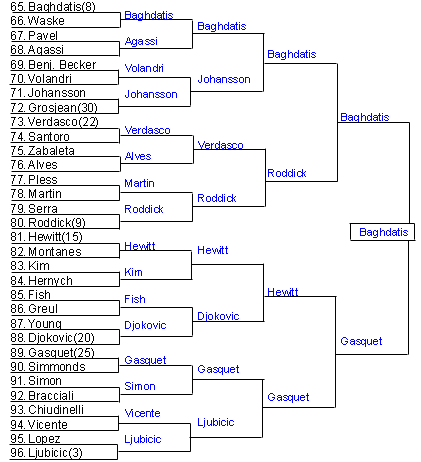 Average Rating:
5
out of
5
based on
244
user reviews.