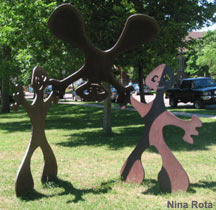 Here are three things that make a champion: genetics, training and will. Let's talk about genetics.
Lance Armstrong's heart is 20% larger than a normal person's heart. Formula One racer Ayrton Senna had a reaction time 20% shorter than the average person. He still died in a racing accident, which tells you how dangerous that sport is. Andy Roddick has unusually flexible ribs and spine enabling him to arch his back and rotate his arm 44% more than the average professional tennis player. That explains why he can hit a 155 mph serve. You can read about the genetic qualities of these and other athletes in an article by Sam Walker here.
There is another part to genetics: parental involvement. My great-grandfather was a composer, my grandmother was a piano teacher and my father was eleven years old when his first musical composition was performed publicly. I was raised by an adoptive family. My adoptive parents bought a piano but didn't pay for lessons. Knowing my lineage, maybe they thought I could sit down and spontaneously throw down Beethoven's Fur D'Elise. I played the violin in elementary school but I practiced in the basement and I remember breaking a string that my parents took their sweet time replacing. Can't blame them, I suppose, screechy violin sounds are not very soothing after a long day at work. My father might well have become a composer under any circumstances but the process would have taken longer. As it was, his family moved to Rome so that he could study at a music academy there.
If you have precocious talent and accomplished parents, you're in good shape. But what if you're a skinny eight year old with a football mad father who is determined that you'll become an NFL player?
I watched an episode of Sports Kids Moms and Dads on Bravo last week. The show follows a number of families who are pushing or accompanying their kids to mastery in various disciplines. One mother coaches her daughter's high school basketball team. Another mother chaperones her young daughter to dancing competitions. A father, Craig, plans the future NFL career of his eight-year-old son, Trenton.
On Trenton's birthday we see him open package after package of football paraphernalia. If he isn't pulling one of many football jerseys out of a box, he's opening a book about the history of the NFL. I didn't expect to see a pair of ballet slippers but it would have been nice to see at least one non-sports video game or other non-football related item among the gifts.
When Craig says, "His future and my future are tied to his dream of being an NFL football player," that's the first clue that there might be a problem here. The second comes when the camera shows him at his day job. His wife has just announced that she is pregnant with their third child and he's delivering pizzas for a living. No wonder he wants the kid as a gravy train.
Andrew Bynum, the seventeen-year-old first round pick of the Los Angeles Lakers in this year's NBA draft, has played only twenty-five high school basketball games. Maybe this can happen in basketball but you can't start playing tennis in high school and expect to become a professional tennis player. Roger Federer was playing in tournaments when he was ten years old.
A ten-year-old would not obsessively hit forehands for hours at a time day after day. They need a coach and they need parents willing to pay for that coach and all of the other related expenses. A sixteen-year-old player who hopes to become a tennis pro practices on the public courts where I play. His father pays $36,000 a year for his son's tennis dream.
If you have precocious talent and accomplished parents, you're in good shape. But what if you're a skinny eight year old with a football mad father who is determined that you'll become an NFL player?
The parent's job is to nurture talent and desire so that the child has an opportunity to be the best at what they do. When does it go so far that the child is damaged?
Marv Marinovich is often presented as the stereotypical bad sports parent. He groomed his son Todd for the NFL from an early age. Todd was on the front page of Sports Illustrated as a high school football player as an early example of sports parenting gone too far. Todd did make it to the NFL but he didn't last long. He spent time in and out of jail dealing with a heroin addiction and was recently arrested yet again with heroin paraphernalia in a public bathroom.
I worked out at Marv Marinovich's facility in Orange County about five or six years ago. Todd was training there at the time. I'd like to say that Marv and Todd got along famously but clearly there were unresolved issues. I remember Marv asking Todd to put the hurdles up for a running drill one day. "Isn't that your job?" he asked sarcastically. Humans are born with their own personalities. Todd's addictive personality is not his father's fault. We can blame him, however, for ignoring Todd's personality and forging ahead with boot camp football training from an early age. Todd is a sensitive artist type. The NFL was his father's dream. It may not have been Todd's dream.
The whole youth sports atmosphere has blown up since Marinovich trained Todd. My niece and nephews are on traveling teams. Their parents regularly drive three and four hours for weekend competitions. As soon as the varsity season ends, the summer leagues begin. Sidney Crosby, the first round draft pick in this year's NHL draft, has had a personal trainer since he was thirteen years old.
When I was doing improvisational dance, I met a man who worked with abused children. He helped them in two ways. First, he encouraged them to play. Children make up their own games when left to their own devices. Through play they develop a sense of themselves and learn creative solutions for everything from building sand castles to ways of inviting or excluding prospective playmates that ask to join their game.
He also helped them learn how to exert control in their lives. He played a game called "push and pull". He'd take their arm and pull but he'd let them decide how hard or soft to pull. Then he'd let them choose the direction he should pull in. Then he'd let them do the pulling. He was teaching them to take control in small ways so that they could start on the path of regaining control over their lives.
The danger of endless sports leagues is that you never have time to play. Instead, you are constantly instructed. Add a parent who has controlled your life down to the last minute in an effort to fulfill their own stunted sports dream and you have a child in a tough situation with no skills to deal with it.
If you think sports parents are bad here, look at China. The government is the sports parent. Children who show genetic potential live in dormitories studying and training with other young athletes working towards winning an Olympic gold medal. We have the capitalist model – parents pay instead of the state.
Tiger Woods is one of the most competitive beings in the universe. His father, Earl Woods, tried to downplay the importance of winning when Tiger was a child but gave up when Tiger told him how much he enjoyed winning. Venus and Serena Williams are happy and successful on and off the tennis court. They love and respect their father and he is their tennis coach to this day. Michelle Wie may well win her PGA tour card.
There are plenty of good and bad examples of parental support but the bad examples are likely to increase as parents see the heights reached by some of the current sports prodigies.
Charlotte Cooper won five straight Wimbledon singles championships from 1895-1908. She lived a short distance from the Wimbledon courts with her parents. After she won her first title and returned home, her father asked here where she'd been. She said she'd been playing in the Wimbledon final. He asked her how she did. "I won," she said. "I'm so glad," he replied.
It might be light years into the future before we hear another conversation like that.