Messed up my timing this morning. I wanted to cover the women's final but arrive at the BNP Paribas Open just as Marion Bartoli is closing out the second set at 6-2 to pull even with Caroline Wozniacki at one set each. Thanks for giving me a third set to work with Marion. Appreciate it.
Luckily Marion took her requisite bathroom visit which gives me a bit of time to settle in. Here's what it looks like from my little hive above the court in the Media Center.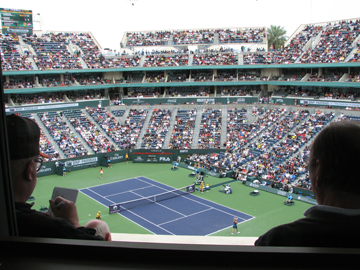 Marion is a funny duck. It's not just the two hander off both sides and the Elena Dementieva corrective serve – the kind of mechanical, robotic serve you change to when the one you grew up with isn't good enough for the pros. If you've served the same way for a long time, changing it is a big deal. Especially when you do it on the run – when you're already playing on the tour. One way is to pare it down to it's most basic constituents: arm straight back, then toss the ball, then scratch the back with the racket, then snap over the ball, one…after…the…other. And that's how Marion serves.
But it's not just that. I almost accidentally ran into her in the cafeteria yesterday. In that situation you each usually apologize and exchange weak smiles, but that persistent worried look on her face never changed for a second. When you interview her she has that same look. I thought maybe she didn't like media responsibilities but no, it's her general demeanor.
Maybe that's the kind of attitude you need to beat the perpetually sunny Wozniacki.
The knock on the Woz is that she might not have enough offense to win a slam. She joins Jelena Jankovic and Dinara Safina as recent number ones who haven't won a slam. Not a whole lot bothers Jelena but pretty much everything bothers Dinara and it didn't help having Serena dissing you at every opportunity. Serena is having multiple problems of her own these days so Woz isn't having to deal with that. The #2 breathing down her neck is Kim Clijsters and she likes everyone.
If you watched Maria Sharapova's side of the net exclusively during her semifinal match against Woz, you couldn't be blamed for thinking she won the match. She clobbered the ball, repeatedly. But she lost 6-1, 6-2. It'll be harder for Marion because she's smaller and her serve is a bit weaker.
Apparently Marion clobbered the ball herself in that second set and now you can see the toll it took. She hits a short shot early in the first game of the third set and Woz puts it away. Marion then comes to the net three times in the game. The first time was a surprise and it worked. The next two made me wonder if she was tired and trying to shorten the points. She goes down a break immediately.
Marion is down 0-2 on her next service game when she gets an ad point. The crowd cheers wildly. They'd love to see a tight match. This is the first time since 2005 there's even been a third set in the women's final here. She obliges the crowd in this game but continues to fade – she starts and ends her next service game with a double fault to go down 1-4.
Marion revives to break Woz in the next game but it's temporary. With Marion serving at 3-5, she plays a point that shows you why the first words out of her mouth in the trophy ceremony explained her tears as "tears of tiredness." Marion gets a high ball at the net and whacks it down the line. Unbelievably, Woz gets a racket on the ball then moves herself into position to hit another ball. Marion can't control it and the point is over.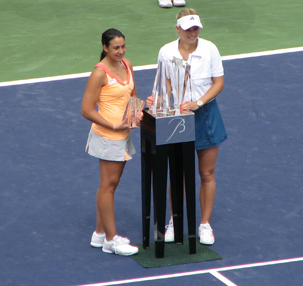 Wozniacki wins her first title here, 6-1, 2-6, 6-3, after losing last year's final to Jankovic. With Clijsters shoulder bothering her, I think Woz's slam will arrive pretty soon.