I saw my first lacross game this week. I watched the National Lacross League (NLL) championship game on network television. The largest crowd in NLL history, 19,500, filled up every space in the Air Canada Center to watch the Toronto Rock compete for it's fifth Championship Cup in seven years against the Arizona Sting.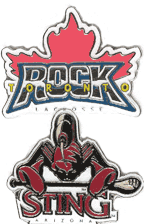 The NLL plays box lacrosse which is played on a hockey rink with the same glass and boards but a turf carpet instead of ice. They play on weekends and are allowed to practice as a team only two hours a week because they get paid, on average, $14000, therefore they all have day jobs.
Americans prefer field lacrosse which is played on a field slightly longer and wider than a football field and has ten players to a team. Canadians prefer box lacrosse with 6 players to a team. In fact there are only four Americans playing in this game.
Lacrosse is the faster growing sport in the U.S. The game that started with Native Americans and was named by a missionary who compared their sticks to a priest's crosier has catapulted itself into the world of X Games and superstar egos with a new name – lax. One of the more amusingly misleading names ever given a sport.
With the current explosion of the sport, there is the inevitable old school new school schism. The new school sends their kids off to lacrosse camps so they they can earn college scholarships. The old school teaches the connection to spirit and the creator as expressed by the Native Americans who started the sport. The old school probably thinks that the lengthy Sports Illustrated article about the newfound popularity of lacrosse is a death knell for their sport. Once the sports mad – read money mad – American public gets hold of it, we'll have Latrell Sprewells on lacrosse teams in no time.
Whoa, it's like a football game. On the opening faceoff, players run down the carpet and take out other players. Crosschecking (hitting an opposing player with your stick) is allowed.
Arizona's goalie, Mike Miron, is huge. He looks like an overdressed Sumo wrestler with all that equipment. Of course the back of his helmet says "Tiny," what else would it say? I suppose that's one approach, put a big guy in goal and hope he can move his pinkie or hip just enough to plug up the holes. Miron is 5'10", 265 pounds. That's got to be a record for a goalie in any professional sport. It's like having Shaq on your team, it's unfair.
Let's see, there's a 30 second shot clock, 10 seconds to advance the ball cross midfield – basketball. There's tackling – football. You can go behind the goal and change players on the fly – hockey. Pick and roll seems to be popular. Uh oh, a fight already and it's only 12 minutes in – definitely hockey, or is that basketball?
The referee assesses a double penalty and the two offending players get in some extra shoving on the way to their respective penalty boxes. The announcers state that "Spontaneous fighting is tolerated," in the NLL. I wonder how they distinguish spontaneous from non-spontaneous. Do they read minds?
One player failed to get a shot off because he was well defended by two opposing players. His response: shove both player in the back with his stick. Arizona player Jonas Derks gets a five minute penalty for a cheap shot. If a player is turning into you, you can hit him in the back. If he's running away from you, you can't hit him in the back. What a relief.
The penalty puts Arizona down by two players but then Toronto gets a penalty when a player wraps his stick around his opponent's neck and knocks his helmet off. It's only a penalty because he grabbed the player with his free arm.
In a previous game, one player shot a ball that bent another player's face mask into his eye and damaged his retina. Luckily it didn't put his eye out. I'm not surprised. My only previous experience with the game consists of rolling on a hard rubber lacrosse ball to inflict deep tissue massage on my leg muscles. That ball is solid. Naturally, the injured player went on the finish the game.
Arizona starts out very quickly and scores the first two goals but Toronto catches up with some good defense then pulls away with three quick scores. A Sting player stops a Toronto player on a breakaway by chopping down the shooter's stick from behind but that is an exception. Arizona gets only 5 shots on goal in the second quarter and gives up 6 of the last 7 goals.
And the end of the first half, Toronto is up 10-6. Don't drop out yet, though, Arizona has come back more than once in the playoffs. They were down 8-3 in one game and came back to win.
Nine minutes into the third quarter Toronto's lead is only 11-9 and the speed of the game is picking up. Players are weaving in and out and there are more long outlet passes. With six minutes left in the quarter, Chris Seller scores to cut Toronto's lead to one goal. The home crowd is suddenly very quiet. Toronto gets one more goal to and is up 13-11 at the end of the third quarter. A two goal lead is nothing in lacrosse. This is getting exciting!
Toronto scores the first goal in the fourth quarter on a left handed shot by right handed Blaine Manning. That gets the crowd back up. Colin Doyle gets another goal and now Toronto is up 15-11 and there are 11 minutes left.
Sandy Chapman scores the third straight Toronto goal. By this time Toronto goalie Bob Watson has not been scored on in 12 minutes. Peter Lough gets a breakaway for Arizona but he's checked from behind by Noah Talbert. A few plays later Toronto does it again before the player even gets the shot off and Blaine Manning gets their 4th goal in the period to go up by 6 goals.
With 2:50 left Arizona gets a fast break (do they call it that?) and gets a close-in shot on goal followed by another attempt off the rebound but Watson still holds them off.
Arizona pulls their goalie with 2:21 left on the clock. A soon as Toronto goes on the offensive, goalie Miron runs all 265 pounds back into the goal and gets there just in time to stop a shot on goal. Arizona retrieves the ball, gets back down the field and finally scores a goal to get back to 17-12. Wait, wait, that's the backup goalie sprinting back and forth, not Miron. Thank heavens, I was getting concerned. I guess we don't see this kind of thing in hockey because it would be hard to beat a puck sliding along the ice back to the goal once you'd left the goal unmanned.
Arizona is down by 5 goals with two minutes to go. Can Arizona pull it off? Can they get 5 goals in two minutes? At 1:39 they score again as Pat Madalena gets back to back goals, down by 4. Even more exciting.
Toronto gets the ball of the faceoff and gets a goal to go back up by 5 then Arizona makes a bad pass and another ball goes into the empty net and it's over. Time to get the party started. Toronto wins the championship, 19-13.
I was surprised at the level of, let's say, physical play in professional lacrosse but I shouldn't have been. We are essentially watching hockey played with lacrosse sticks. Field lacrosse is less physical because there is so much more open space and crosschecking is not allowed.
I can see why youth sports is turning to lacrosse. You don't stop for every play like football, there is more scoring than soccer, it's too hard to get the ball in the hole in basketball and ice can be hard to find. Let's not even talk about tennis. First of all it's not a team sport and it takes time, coaching and money to learn to consistently hit a ball over the net.
But I'm disappointed. I was looking forward to seeing a new sport and it looks like an old sport but with a different stick. I'll try field lacrosse next and see how that goes.