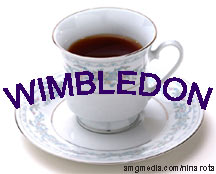 So the tennis roadshow has shifted from the red clay of Roland Garros at the French Open, just two weeks ago, to the doom and gloom of grass at Wimbledon.
Well, maybe not quite doom and gloom. Actually the weather in London has been quite remarkable, in the 70s and 80s, a veritable heatwave for them. Monday the temperature was 92, the hottest it has been in 28 years. Friday they may get some rain, but so far the weather has been cooperating, and the load of early matches are getting finished. The courts apparently bounce higher and harder when the weather is warm, and the big servers are loving life.
Suddenly we see players who come out mainly for this tournament, people like Greg Rusedski and Mark Philippoussis. Mario Ancic and Joachim Johansson can also pound big serves, and they should work their way further into the draw.
The first man to fall by the wayside was Maria Sharapova's stalker. He was identified before the tournament started and banned from the grounds. More will follow, we can be sure. Especially if Maria keeps doing those sexy commercials where she magically pulls a camera from out of her underwear. Maria claimed not to even notice the guy, probably true. She is surrounded by so many people now, only some of them bodyguard types, she probably doesn't know who is part of her retinue and who isn't. As long as she can identify the girl on the other side of the net.
The shift from clay to grass in such a short space of time ushers in a whole new crowd of grass court specialists, and ushers out the clay court people who barely bother to cross the Channel. The Spaniards generally do not like Wimbledon. Carlos Moya made an appearance last year, but generally before that he usually found reasons to pull out. This year it was his shoulder (legitimate though). Tommy Robredo, the 13th seed, should have gotten through the first round, but he didn't. But Juan Carlos Ferrero is here, trying to rebuild a career sapped by injuries and inconsistency the last couple of years. He does not make it easy on himself though, his first two matches have gone the distance.
Mariano Puerta, the finalist at the French, at least bothered to show up. He had to tear himself away from the festivities held in his honor back in Argentina, so give him an "A" for effort. He knew he wouldn't last long though, his long strokes and baseline play are perfect for clay, totally impractical on grass. Bergsmuller took him out in the first round in three sets.
THE GUYS WHO LOOK GOOD
Marat Safin has been very impressive. For some reason this year he seems to feel a lot better about playing on grass. Before that, he used to echo Marcelo Rios of Chile, who liked to say that "grass is for cows." Winning can do that to a boy's mind. And Safin has been winning easily, in straight sets, with efficiency and a business-like attitude. Drama free. Let me stick my neck out now and say that the men's semi here will feature Safin and Federer, and Safin may upset the Fed Man as he did at the Australian Open earlier this year. After that match, I wrote that Marat is the one guy who will consistently be able to bother Roger, he has the power and the game to do it. On more surfaces than Rafael Nadal.
Roger and Andy Roddick have moved easily through their matches. Roger exudes confidence, he fully expects to win this. After all, as McEnroe said, the man has the game of God. Roddick could meet Nadal in the other semi, I think he can beat Nadal on grass.
Lleyton Hewitt will face Safin in the quarters, and I expect Safin will prevail. Hewitt apparently criticized the seedings at Wimbledon, why I am not sure. He is ranked #3, Roddick is ahead of him and Roger is on top. Does he think he should be ranked ahead of Roddick? Beats me. Maybe impending fatherhood is making him uptight. His kid will pop out of the womb with a clenched fist, no doubt, and a hail and hearty "Come on!"
Rafael Nadal is playing better on grass than I thought he would. He actually went out in the first round of one of the tune-up events on grass, so I did not think he would fare well here. Mary Jo Fernandez and Brad Gilbert, in their commentary, were debating the merits of Nadal playing doubles here too, as he did at the French. Mary Jo thinks it will help his volleying, but I tend to agree with Gilbert. It's a lot of energy expended over a long two weeks. Why not just have a good half hour of net practice in lieu of running around on a doubles court for best of five sets? But hey, that's a 60-year-old body talking versus a 19-year-old's.
THE WOMEN
Lindsay Davenport looks awesome. And as lean as we have seen her. I think she is going to win it all.
The only major shock of the tournament so far was Justine Henin-Hardenne going out in her opening round to Eleni Daniilidou, of Greece. And in a way it really was not such a big surprise. Maybe Justine read that article in the New York Times the other day, about how all the top girls in tennis now are nearly six feet tall. Justine is barely 5'6″. The day of the Little People in tennis may be nearly over, now you really need that height and those levers that go with it. I feel sorry about this, but it seems inevitable. I like seeing Justine play, she has a beautiful, complete game. In a way, she did what Martina Hingis could have done: build up her body with more muscle, get more pop on her serves, hit out with more power and develop even more speed. Justine loves to train. Martina was never the grunt though that the Belgian is.
But that may be part of the problem Justine faced with Daniilidou, a very tall, powerful player whose game resembles Amelie Mauresmo's. Justine did not play any tournaments on grass leading up to Wimbledon. She was nervous about her endurance, obviously, and did not want to play herself into the ground.
But then the draw came out, she saw who she was facing in the opening round, and she probably regretted that decision. This could be the breakthrough tournament Eleni Daniilidou's career has needed, she has a lot of power, a great serve and all the shots. Now with that she has the confidence that comes from beating one of the tournament favorites on the women's side.
Power on through, boys and girls.
Average Rating:
4.9
out of
5
based on
182
user reviews.