I want to draw your attention to the first-rate photographs at the tournament this week in Los Angeles. Michael Ferlan is the photographer and his work is excellent. You can see more of his work at Ferlan Photography.
"What he does [Roddick] is going to pull the chain for the youth of America."
Here at the Countrywide Classic, US players Andre Agassi, Andy Roddick, Robbie Ginepri, and Paul Goldstein were all out after the quarterfinals, Roddick due to injury, the others lost their matches. As Agassi makes his way through his farewell tour, let's look at US tennis after Andre.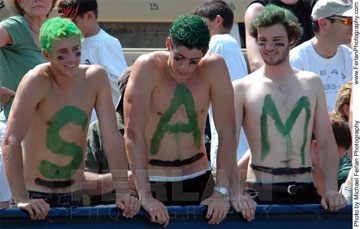 At the Roddick – Jimmy Connors press conference earlier this week, in case you've been on the International Space Station, Roddick announced Connors as his new coach, Connors was asked about the status of US tennis with Andre leaving. He said that he didn't think there was anything better for US tennis than Roddick playing Blake, they played an exciting three set final in Indianapolis last week. Connors, of course, emphasized effort: "Both those guys were playing flat out as hard as they could and the results showed it. …That's the kind of tennis that American tennis needs to get into the next generation because, if not, we'll miss the next generation." Further he said, "What he does [Roddick] is going to pull the chain for the youth of America."
US tennis has three top twenty players – well, four with Agassi but he doesn't count any more – and one of them, Blake, is number 5. But Roddick is still the star so let's look at him first.
Roddick can stay in the top fifteen with his current game, he still has the best serve in the game and a forehand that is a formidable weapon. His ranking is back up to 10 on the strength of his final appearance against Blake but players seldom stay put. The players in the top three or four places in the rankings are pretty steady, but the bottom of the top ten and down into the top twenty often looks like musical chairs.
If you're a player like Roddick and you've been in the top five, you're not happy when your ranking goes down to number 15 and you push yourself until you get back where you were. In the process, you either succeed or, as Roddick said in the press conference, you push yourself too hard and your game suffers then you drop even further.
If Roddick wants to get back to the top five, he will have to change something and a new coach is a very good start. Roddick has never quite recovered from firing Brad Gilbert and though Connors is an unknown quantity as a coach, at least he's as opinionated and knowledgable as Gilbert and just as strong a personality.
It's easy to forget that James Blake is a late bloomer. He was out of the top one hundred at the beginning of 2005 and ended the year at number 23. He managed to come through the clay court and grass court season, his two weakest surfaces, with his highest ranking. But if he wants to go further in the rankings or hold onto it for any length of time, he has to get to a few slam semifinals. I'm tired of writing it so I know he's tired of hearing it but you can't do that if you can't win five set matches. Many players have two or three five set matches on their way to a slam semifinal, Ginepri played four straight at the US Open last year, but Blake is a perfect 0-9 in five set matches. He disappeared in the fifth set against Mirnyi at the Wimbledon losing it 6-0. That is not a sign of improvement.
Robbie Ginepri's middle name should be yo-yo. He got up to a ranking of 25 in February, 2005, then, as he admitted, took his ranking for granted, got lax about his training and fell out of the top 100 by July of 2005. He went on a tear in the second half of the year getting to the semifinals in two Masters Series events and the US Open to reach a career high ranking of 15. But somewhere in the off season he lost his momentum and had a terrible start to the 2006. He didn't win two games in a row until May.
Evidently he is a momentum player. Some players need confidence to win a match and some players need to win a match to have confidence. Ginepri clearly appears to be in the latter camp. He's now in an upswing with a semifinal and quarterfinal in the last two weeks and he's still hanging in there at number 20, but he's number 80 in the ATP race which starts each player with zero points at the beginning of the year. Unless he defends his last year results at the US Open, Cincinnati and Madrid, he'll be somewhere between twenty and eighty.
There are two promising young players in the conversation. Donald Young just turned seventeen years old. He received nine wild cards into ATP event this year and last, including four Masters Series and one slam, and never won a match. That may have been a mistake. Hopefully he can establish himself in futures and challenger events and regain his confidence.
If Donald Young is a cautionary tale, Sam Querrey is a success story, so far. He stayed at home through Thousand Oaks High School – you can see his high school buddies dressed up in green above – and went to his high school football and volleyball games. He traveled to the junior championships at Kalamazoo and a few junior slams but but kept the semblance of a normal life. He reminds me of Lindsay Davenport who also graduated from a normal high school experience before joining the tour. Querrey won two challenger events after turning pro in June and won first round matches at Indianapolis and here in Los Angeles.
Here's the scouting report on Querrey. Positives: good first serve, excellent forehand, good size, 6′ 6", and good reach. Negatives: average return, can't control the point with his backhand, questionable movement, phases out and loses focus in the middle of matches. If that sounds like Roddick, it's accurate in two ways. At the top of the tennis world you have one Roger Federer. Two of his biggest strengths are his movement and his return of serve. Those are Roddick's two weakest points. And they are Querrey's weakest points. It's silly to worry about Federer if you're Querrey but relatively poor movement has limited Roddick's ability to develop himself into a good volleyer because his footwork is not as good as many other players.
The conclusion: if you want to have a long and successful career, it would be smart to look at Agassi as an example. He's a very intelligent player who worked on improving his game to the very end. He made a concerted effort to get into the top ten rankings for service returns in the middle of his career and the older he got the harder he worked. Running up hills on Christmas morning to get ready for the Australian Open, that kind of thing.
Roddick is an intelligent man with good self awareness and a strong desire to improve. The same thing can be said of Blake. Blake has more game so I expect him to stay on top but Roddick should be able to stay in the top ten or twelve and, as Connors said, that will help US tennis. Ginepri is an unknown and, I would say, an unknown to himself. Agassi may have had some identity problems early in his career but he cleared them up. If Ginepri can't do the same thing, he'll sink again. Querrey is just a tiny blip on the radar at this point and Young is totally off the radar.
It took Agassi a long time to become the grand man of US tennis so it's a good idea to give current US players the same time to find their way. They've had an excellent role model.
Average Rating:
4.8
out of
5
based on
300
user reviews.