could fantasy tennis increase the popularity of the professional tennis tour?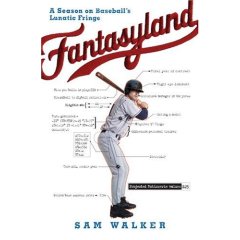 For most professional tennis players, the short off-season is finally here. For the top Russian and Argentine players, the season won't be over until December 3 when the Davis Cup champion is crowned.
That leaves less than a month for an off-season. We all know this is ridiculous and the ATP and WTA are starting to weed out tournaments in an effort to pare down the yearly schedule. Unfortunately, given the popularity of tennis in the U.S., that means tournaments in my resident state of California are likely to disappear. The WTA tournament in San Diego is already gone after 2007 and the WTA tournament at Stanford is a Tier II tournament which leaves it in a precarious position.
While tennis is struggling, baseball is booming and fantasy baseball has no small part in that. In my off-season, I'm going to look at a few aspects of fantasy tennis and see what it may hold for us.
Let's start by looking at a book called Fantasyland by Sam Walker. Walker is a baseball columnist for The Wall Street Journal who took a sabbatical to try and win the most prestigious fantasy league title in the country, Tout Wars, a league whose membership is limited to fantasy baseball experts.
Since Walker is a baseball journalist he figured he had an advantage over his Tout Wars opponents because he had direct access to baseball players and team management. If you ever doubted the fanaticism of fantasy players, consider this: on at least three occasions he tried to influence the manager of a real baseball team to make a decision that would help the statistics of a player on his made-up fantasy team.
It wasn't as warped as it sounds. Walker told the manager of the Detroit Tigers that one of his pitchers, who is diabetic, experienced a drop in performance when his pitch count regularly went over 100. What helped the Tigers also helped Walker's team. Imagine me using my position as a tennis journalist to corner Marat Safin's coach and slip him the name of a Freudian analyst just because I have Safin on my fantasy team. Yes, it would help the notorious headcase that is Safin, but my motivation is totally self-serving.
How much has the fantasy baseball increased the popularity of the real game? More importantly for our purposes: could fantasy tennis increase the popularity of the professional tennis tour?
Major League Baseball is flush at the moment. They have a new $3 billion dollar television deal, the Chicago Cubs just gave $145 million to Alfonso Soriano and a low level minor league team sold for $24 million. And this is just one year after the Balco scandal uncovered widespread steroid use and a season where there are very few notable stars.
Sports has historically been driven by superstars but the fantasy game is different. Everybody knows who the stars are but when you have a fantasy team, you also become very familiar with the scrubs. At the end of a fantasy baseball draft you have very little funny money left so you have to find the good $1 players. In the ATP fantasy tennis game, you can only use a player five times per season. You'd better be familiar with the clay court players ranked in the lower part of the top 100 else you'll miss out on the interminable European clay court season.
who wants to sit on your couch passively when you could sit on your couch and play the game?
Whereas before you logged on to the Talk Tennis forums only for grand slams andMasters Series tournaments, now you check the live scores online and look at your fantasy team ranking many times a day. Those are your players out there! As Walker put it, "…the trouble with this insidious game is that once you've played it, every other form of fandom is a pale substitute."
Yahhoo Sports estimates that there are 16 million fantasy baseball players. That's about 20% of the total attendance at baseball games last year. That's a huge number and explains the massive online advertising income from web traffic as players track teams' statistics and visit fantasy helper sites. The ATP fantasy tennis team had 14,000 players. Not in the same class at all but fantasy baseball started around 1980 whereas fantasy tennis games are only a few years old.
Books with baseball statistical models have been around for years. The only sites that analyzed tennis matches were betting sites. But this year, Tennis Insight, a site with ample tennis statistics and a statistical model for predicting winners, launched. You can also get historical statistics at ATP Tennis and match results by court surface at Tennis Match-Stats.
You could say that fantasy tennis isn't as warped as other fantasy sports because, unlike fantasy baseball, your fantasy team is not made up of players from different teams. You won't find yourself at a ballpark cheering for the catcher on one team and the pitcher on the other because they're both on your fantasy team. In tennis, you're rooting for one player against another.
Many adolescents already spend their time playing an NBA video game instead of watching the real thing; who wants to sit on your couch passively when you could sit on your couch and play the game? And baseball fantasy players are outnumbered by fantasy football players. Tennis has been slow to catch on but the world of interactivity is here and it's had a real effect on the popularity of the live version of the sport.
I don't think it'll take 25 years to see the effects so check back in a few years and I think you'll see that ATP fantasy tennis isn't the only game in town.