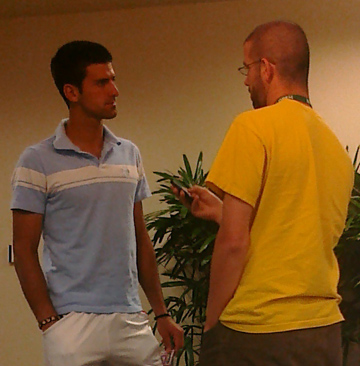 I left the Media Center at the BNP Paribas Open last night to go to dinner when I noticed something strange out of the corner of my eye: massage chairs. Whoa, massages? For who? For me. It turns out, and anyone else using the Media Center. I told you they take good care of us here.
Today I want to see why Novak Djokovic is 13-0 on the year going into his quarterfinal match with Richard Gasquet. I watched the beginning of the match as I walked past "the big screen on the green" in the middle of the Indian Wells Tennis Garden and noticed how flat Nole was hitting the ball. When he changed his racket a few years ago he was popping it up. Nole agrees. After the match he said:
I can flatten it out a little bit and take charge of the short balls …which maybe wasn't the case in the last year or two.
I was surprised to find out that Gasquet was up 2-0 by the time I got to my seat.
Okay, I'm at my seat now and wondering what Gasquet is doing differently. Down a break in the third game, he serves and approaches then scoops up a short hop volley and wins the point. The next two points same thing – putaways at the net. He's obviously making a concerted effort to come to the net.
Gasquet is one guy who hits as hard as Nole – just not consistently enough. He typically goes for too much which is an interesting mix since his is a much more reticent personality next to Nole's party persona. Before his Australian Open final this year, Nole hired a band for his victory celebration. I'm pretty sure his opponent, Andy Murray, didn't approach his match the same way.
I wonder, has any backward hat guy ever won a slam? What does a hat turned backward say? Does it suggest reticence or nonconformity or complexity? With Gasquet I think of reticence. Here is a guy who backs up on the service return. And once he backs up he keeps going – three or four feet behind the baseline for much of the match.
And complexity. Gasquet backs up then goes for winners from that backed up position. He undercuts his vast talent by making it hard on himself. After those putaways at the net in the third game, Gasquet starts going for those big winners I mentioned and loses his serve. Honestly, watching the first few games here, even though Gasquet got out fast, I'm not in the least concerned that Nole will win this match.
A backward hat person almost won a slam. Guillermo Coria won the first two sets in the 2004 French Open final against Gaston Gaudio then served twice for the championship in the fifth set but lost. He won a small clay court event the next year but that was it – no more titles. Maybe he should have turned his cap around.
Nole goes up a break and is now ahead 4-2. I told you I wasn't worried. And I'm writing this in real time.
Down 2-5, Gasquet taps his racket a few times at the baseline as if trying figure out what to do next. He hits a funky short shot to get Nole out of rhythm and while it doesn't work just yet – he loses the first set 2-6 – Nole is decidedly out of rhythm at the beginning of the second set and Gasquet goes up 3-0.
Wait a minute, Gasquet has stopped backing up on his return of serve! Soon after, though, I notice he returns to his retreating ways and Nole wins a service game to get to 1-3. And so it goes. Nole hits a few winners to get his focus back and Gasquet hits a dropshot as an afterthought on break point to put Nole back on serve. Gasquet manages to win two more games but it's Nole going away at 6-2, 6-4. And I swear, after the match he was sounding a bit like Roger Federer.
Someone reminded Nole that he had a fast start in 2008 too – he won the Australian Open and two Masters Series events in the spring including Indian Wells. He asked Nole how he'd changed and this was the answer:
Right now I'm very clear in my mind what I need to do on the court, off the court, to prepare well and to give my maximum on court. And as well have time to enjoy with my friends, with my team, and just enjoy the off-court life.
That could have come straight from Roger's mouth. He seldom tells you anything is amiss in his life. Life is good. His world is totally copacetic. That's Nole's state of mind at the moment.
Nole meets Roger in the semis tomorrow morning. If he beats him, which is a good bet, he'll overtake him at #2 in the rankings. Nole spent some time at #2 last year before dropping back to #3 late in October. Maybe his stay will be more permanent this time.