The last stop before the U.S. Open is the New Haven Pilot Pen Tennis tournament, a 48 player event paying the winner $84, 000. Andy Roddick sewed up the U.S. Open Series Challenge with his win earlier today in Cincinnati. That means he gets twice the prize money for whatever round he reaches at the U.S. Open. Crashing out at the first round of the Open last year was bad enough for Roddick but he also won the Series Challenge going in so he left a lot of money on the table.
The hard court specialists have been playing in the U.S. for a few weeks so there aren't a lot of those around for New Haven. There are three top ten players but only James Blake looks strong enough to win here. Nikolay Davydenko is weak on hard courts and Marcos Baghdatis is unpredictable unless he plays in a slam. I can't remember a player since Pete Sampras who focused so strongly on the slams. I don't think Baghdatis is in Sampras' class and I don't think it's intentional on Baghdatis' part. He loves playing to big crowds but hasn't figured out how to play well week in and week out. He took a wild card here because he lost early in Cincinnati last week, ditto for Monfils who is average on hard courts.
The clay court specialists are getting in a tuneup before they make their perfunctory appearance at the noisy, overcrowded U.S. Open. The Open is not high on non-U.S. players' lists of favorite slams, they prefer a more stately atmosphere and don't always appreciate the scheduling at the Open. Prime time matchups with a U.S. player take precedence over the scheduling concerns of non-U.S. players whether they're ranked higher or not.
Don't confuse Julien Benneteau with those clay court specialists. At age 24, he's making a late career push. He started the year at 160 and now he's at 50 with a 13-8 record on hard courts. I have him in the semifinals because I don't have confidence in Baghdatis.
Wawrinka beat Nalbandian last week but who knows what's wrong with Nalbandian. He's fallen off the map for some reason. Wawrinka started the year ranked number 54 and his current ranking is 54 so we can expect a third round finish at best because he's consistently average.
Blake is a tough pick. He had a 6-2 record on indoor hard courts last year and there are a lot of indoor hard court tournaments left. You have to pick him this week because he won last year and this is his home tournament. If he does well then you have to pick him for the U.S. Open and you'll be like everyone else, you won't have a lot of players left to pick for the fall indoor season. Hopefully Nalbandian will wake up and start playing well.
My eight quarter-finalists are: Blake, Jose Acasuso, Jarkko Nieminen, David Ferrer, Julien Benneteau, Baghdatis, Olivier Rochus and Arnaud Clement.
You can read about Blake and Federer losing this week in Cincinnati here.
You can read about Nadal losing in Cincinnati here.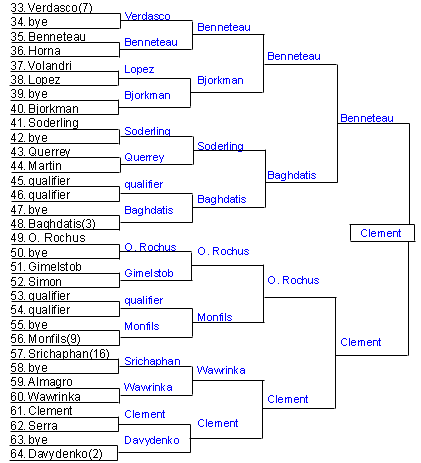 Average Rating:
4.9
out of
5
based on
206
user reviews.