John McEnroe threw temper tantrums on the tennis court. He abused officials, he abused himself, he even abused a spectator on occasion. It wasn't that McEnroe couldn't control his temper, he knew very well what he was doing. McEnroe usually threw a fit when he was behind or when the momentum was slipping away from him. In the book Winning Ugly, Brad Gilbert describes a pivotal point in a match with McEnroe. Gilbert hit a winner that landed just inside the line and even though McEnroe likely knew that the ball was good, he threw a tantrum that lasted a full ten minutes. He wanted to unnerve his opponent and regain momentum. It was a night match, the temperature was 45 degrees, so Gilbert stood there getting stiffer and stiffer until McEnroe's tirade stopped. On the next point, of course, McEnroe served an ace. During Gilbert's next service game, the umpire gave him a delay of game warning!
Jimmy Connors did the same thing except that his tactic was to delay the match by clowning around and playing to the crowd. The umpires were intimidated, they weren't willing to stand up to McEnroe and Connors because they were the stars of the show.
This worked well for McEnroe when he was on top but beware what comes back to bite you when you slip to a lower rung on the tennis ladder. McEnroe was disqualified during the 1990 Australian Open for an outburst. Look at Serena Williams' loss to Jennifer Capriati in this year's U.S. Open. The chair umpire overruled an obviously correct call to give Capriati a point. Serena and Venus have been so successful that one of their grand slam finals has been televised in prime time. Now that Serena and Venus are no longer at the top, they are likely to take more blows.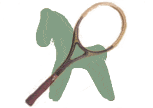 Also consider Seabiscuit's trainer Tom Smith. While Smith was training Seabiscuit, he used to drive bettors and scribes crazy by using a Seabiscuit look-alike during workouts to throw them off. He obviously had immense success with Seabiscuit but later in his career when he was not so successful, someone used a nasal spray with ephedrine on a horse he was training. Even though the amount of ephedrine was not enough to "have affected the physical performance of a flea", his license was suspended for a year.
Even if you haven't behaved like John McEnroe and particularly if you have, be prepared for the vultures once you are past your prime.
Average Rating:
4.5
out of
5
based on
280
user reviews.