This is life for the second and third tier tennis professional on the ATP tour.
Your ranking is down in the 200's or 300's, you're a promising player and there is a tournament in your home country so you might receive a wild card entry. Scott Oudsema, a US player with a ranking of 390, received a wild card into the Countrywide Classic here in Los Angeles.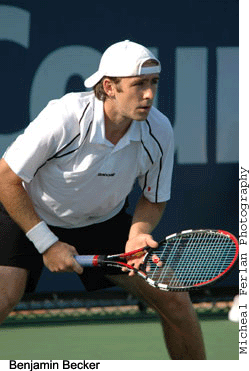 Sometimes, instead, those wild cards go to a high ranked player who decides to enter at the last minute. Andy Roddick was on a roll after reaching the final at Indianapolis last week so he decided to come to Los Angeles. Good thing really, this tournament has a long history with a storied list of winners including Rod Laver, Stefan Edberg, Pete Sampras, and Jimmy Connors, but they suffer in the current ATP schedule and Roddick's star power should help their attendance. Top players don't come to Los Angeles because they prefer to focus on the Masters Series events in Toronto and Cincinnati which are closer to the US Open.
Maybe your ranking is between 100 and 150 and there are two or three tournaments this week and one of them is a 64 or 48 player event. In a larger tournament, there is probably a place for you in the main draw.
If there's a smaller 32 player event on your favorite surface, you have a good chance of getting through three rounds of qualifying and earning a first round match against Andy Murray. If you lose in the last round of qualifying and Andy Murray pulls out of the tournament– as he did this week – you can take his place as a lucky loser
One of the players in that netherworld is Benjamin Becker, current ranking: 140.
Becker is consistently making it into draws at ATP tournaments. He was in the regular draw last week at Indianapolis – a 48 player event – where he made it to the second round, and qualified into the draw here. As he played his first round match against Oudsema yesterday, I sat in the stands and watched him play.
Oudsema was the best draw Becker could have hoped for. Becker could have played Nicolas Mahut who is ranked number 64. After he lost his serve in the first set, my heart sank a little bit. It's hard not to pull for a player who's on the edge and trying to make it. The ups and downs seem more important than they do for a player who's established and won't suffer as much from an early loss. Hewitt lost in the first round to Paul Goldstein later in the day but I don't worry about him.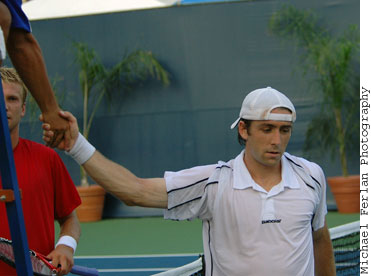 Becker lost his serve in the second set also and lost the match 6-4, 6-4. After the match I asked what has improved most about his game and what his biggest weakness is. His answer was the much the same as you'd expect from a tennis player at any level of the game: mental focus and consistency.
I'm playing more aggressively, my serve is a little better, just a little bit of everything. …But today my mind wasn't really in the match. I was lacking some aggressiveness I had last week.
Sometimes I feel like I'm mentally strong and sometimes I feel like I'm losing because of my mental weakness. The consistency is not there yet.
Becker's goal is to reach the top 100 by the end of the year and get into the main draw at the Australian Open in 2007. He qualified into Wimbledon and won his first round match so it's a realistic goal. Small victories mean a lot at this level. I asked him how it felt to walk out onto the grass at Wimbledon.
It felt pretty good. It gave me some confidence. I would have liked to win the second round but it was a great experience. It gives me motivation to do everything I can to get back there.
As for now, he'll be at the next tournament, qualifying or getting into the draw on his ranking alone, and still trying to get to the third round.
Correction: Scott Oudsema won his wild card by winning the All-American Shootout competition on the Friday before the tournament started.
Average Rating:
4.8
out of
5
based on
231
user reviews.