Things were a bit topsy turvy last week in Madrid. Andy Murray beat Ivan Ljubicic, Kristof Vliegen beat Dmitry Tursunov then James Blake, and Robbie Ginepri beat Mario Ancic. How was I supposed to know? My entire draw was messed up. One thing is for sure, the surfaces keep slowing down, even indoors. That gives players like Murray an advantage and takes away from Ljubicic's game.
It's rather like the end of the baseball season. Teams that are out of the playoffs have one thing to play for – pride. In this case a number of players who have no hope of getting to the year-end tournament in Shanghai knocked off a bunch of players fighting for one of those precious eight spots.
There's a lot of money to be made again this week: Basel (pays $152, 628 to the winner, indoor carpet), St. Petersburg ($142, 000, indoor carpet), Lyon ($121, 344, indoor carpet). That's $415, 972 if you picked all three winners. This is the next to last week of the fantasy league season, next week's Masters Series event in Paris is the end, so make the most of it.
Basel
Our guy Benjamin Becker is playing Paradorn Srichaphan in the first round. Becker is all the way up to a ranking of 62, only five below Srichaphan surprisingly. I'd like to pick Becker because he had a 16-3 record indoors in challengers but Srichaphan has a good record indoors too so I'll go with experience over potential.
I have Fernando Gonzalez over Andy Murray because he's on such a roll but Murray has a career record of 13-5 indoors so I wouldn't be surprised if Murray wins.
Gonzalez vs. David Nalbandian is the more interesting matchup. They are 2-2 on hard court over their last four meetings. Nalbandian beat Gonzalez at the U.S. Open but Gonzalez beat Nalbandian two weeks ago in Vienna. Since Nalbandian appears to have returned to his usual place in the semifinals, I'm picking him.
St. Petersburg
I would not pick Mikhail Youzhny, since his run to the semifinals at the U.S. Open, he's been very inconsistent. I have him in the quarterfinals but without confidence.
Jarkko Nieminen could go down to Janko Tipsarevic in the first round. Tipsarevic has less experience but his record is better on carpet. I'm going to be brave and pick this upset. If you don't take chances, you never win the big money.
Since winning in Mumbai, Dmitry Tursunov has lost in the second round in Tokyo and the first round the last two weeks. What is wrong with him? He has a career 16-5 record on carpet.
I'm going to pick a second upset here: Jurgen Melzer over Tommy Robredo. Melzer has a career 3-2 record over Robredo and a 2-1 record indoors. Don't pick Robredo this week though it's unlikely you've had any Robredos left since the clay court season.
I almost put Melzer in the final but I think Ancic adjusts to carpet this week though not quite well enough to beat Nikolay Davydenko.
Lyon
Marcos Baghdatis is another player who had trouble adjusting to the altitude and lighter ball in Madrid, he lost his first match to Robbie Ginepri. His first round opponent in Lyon, Arnaud Clement, reached the quarterfinals in the last two weeks indoors. I'm picking Baghdatis but it's tentative.
Marat Safin is 3-0 over Richard Gasquet with two wins on carpet, one of them this year in Davis Cup, so Gasquet is unlikely to get out of the first round.
Marc Gicquel vs. Dominik Hrbaty is hard to pick. Gicquel got to the quarterfinals here last year and the semifinals in Metz. Hrbaty got to the semis in Vienna and both players lost in the second round in Madrid. I'm going with Gicquel because he lives in France and has the home court advantage.
Gaston Gaudio is the second seed here and though he's not terrible on carpet, he has an 11-11 record, this is the reason why I plan to develop a surface-adjusted ranking – separate rankings for each surface calculated by adding ATP points earned on that surface. Rankings – and seeds -need to reflect the current surface. I have Ginepri over Gaudio in the second round.
Ginepri vs. Julien Benneteau is also hard to pick because they're both 7-3 on indoor hard court this year and neither of them is effective on carpet. Benneteau is French but I'm going with Ginepri after his strong showing in Madrid last week.
Safin beat Baghdatis this week in Madrid so I have Safin in the final where I say he beats Sebastien Grosjean.
Zero Counter
This week is the worst Zero Counter week we've had. Zero Counter adds up the number of matches between players who've never met each other before in a regular ATP event. If you consider rivalries important, the Zero Counter gives you one reason why there aren't many rivalries on the ATP tour. I know, I say it each week, but you can't have rivalries is players don't meet. It's also an indicator that the ATP is putting out a watered down product. If players are all over the world and don't meet each other, the tour isn't developing a cohesive product with enough identifiable stars.
In 36 matches this week, players have never met each other before. That's 38% of the matches. Do we really need three tournaments at this time of the year?
Picks
Top tier picks: Davydenko, Ancic, Haas, Federer, Nalbandian, Gonzalez, Safin, Grosjean. Since I know everyone has used up all their Federers and most every other top ranked player, here are the second tier picks: Baghdatis, Ginepri, Melzer, Robredo, Murray, Berdych.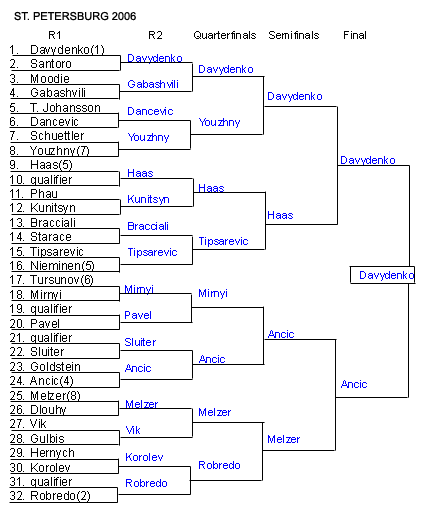 Average Rating:
4.8
out of
5
based on
183
user reviews.