It looked more like Joyce was demonstrating chimpanzee language skills than trying to coach one of the top athletes in the world. The WTA is experimenting with on court coaching this year but I hope they shelve it, I'd much rather watch Bedtime for Bonzo with Joyce and Sharapova.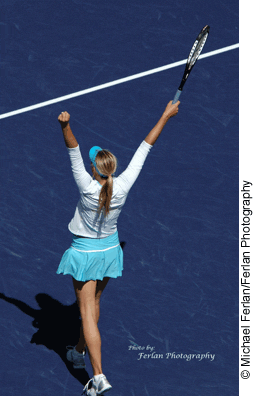 The flow of the U.S. Open matched the trajectory of Justine Henin-Hardenne's slam runs this year. Henin-Hardenne got to all four slam finals but fizzled out in three of them. The U.S. Open started off big with the naming ceremony for the Billie Jean King Tennis Center followed by Andre Agassi's rousing victory over Andrei Pavel then Agassi's still-hard-to-believe win over Marcos Baghdatis and, finally, the tearful, sad end to his career.
After Agassi there were a bunch of exciting five set matches and further abuse of medical timeouts alongside a not entirely unexpected run by Jelena Jankovic and an entirely unexpected run by Mikhail Youzhny.[blockquote]Most of all, Andy Roddick was back just in time to take over from Andre.
But then came those semifinals and finals and just like double H, who's been battling a virus for the past few years, the tournament petered out. Half the sets in the women's semifinals were bagels (6-0), poor Amelie Mauresmo was the recipient of two of them from Maria Sharapova, and there was another one in the semifinal between Roddick and Youzhny. At least Roddick and Sharapova, the biggest draws in the tournament after Agassi, made it to the finals.
The most entertaining part of the final between Sharapova and Henin-Hardenne was the hilarious comedy routine between Sharapova and her hitting partner/babysitter Michael Joyce. Michael holds up a banana, Maria eats a banana. Michael holds up four fingers, Maria hits more forehands. It looked more like Joyce was demonstrating chimpanzee language skills than trying to coach one of the top athletes in the world. The WTA is experimenting with on court coaching this year but I hope they shelve it, I'd much rather watch Bedtime for Bonzo with Joyce and Sharapova.
Speaking of which, when did Sharapova start acting like a movie star? When tennis journalists asked about the four fingers at the media session after Sharapova collected her second slam title, she clearly showed where the power lies in the tennis player/journalist relationship.
First she tried evasion,
MARIA SHARAPOVA: I thought this was supposed to be a positive interview.
then sarcasm,
MARIA SHARAPOVA: I just won a Grand Slam. The last thing I'm gonna talk about is some fingers or a banana, all right? I hope you got that one, thanks.
When that didn't work, she turned into a disapproving mother cowing her recalcitrant child into towing the line.
MARIA SHARAPOVA: Can you tell me, if someone tells me to eat a banana, do you think that's the reason why I'm gonna win a match?
Q. I think
MARIA SHARAPOVA: Just give me your honest opinion.
Q. I will give you an honest answer. I think there's the issue of competitive rules and
MARIA SHARAPOVA: Just take the rules away, take the books away, just just think.
Q. I'm more interested in the four fingers. What did that indicate?
MARIA SHARAPOVA: I asked you to answer a question.
Can't you just see some mother saying, "Now you listen to me young man, I asked a question and I want an answer right now. DO YOU HEAR ME?" complete with bumbling child played perfectly by the poor journalist. The journalist kept trying though.
Q. Yes. I think
MARIA SHARAPOVA: I think
Q. I think it was a strategic tactical moment which contributed to your thought process in the match.
MARIA SHARAPOVA: Oh, okay.
Q. And would be my I don't know, though.
MARIA SHARAPOVA: This is great advice. We should tell all the players to, you know, have a banana and they're all gonna win. Great.
And now it was time for "You go to your room, young man, and when you have an answer you can come out."
MARIA SHARAPOVA: All right. Let's move on. That's the last thing
Faced with banishment to its room the media finally gave in, humored its angry mother, and changed the subject.
Q. Maria, no fruit involved
MARIA SHARAPOVA: Great (laughing).
Sharapova must have mistakenly thought she'd walked into a coronation instead of a media session. Tennis journalists have pushed for better player access and they've been successful, all players are required to be available for interviews after their matches or face a fine, but there's not much use in having an interview if the player can choose the questions.
Roddick made the final with Roger Federer exciting. He started off down 0-5 then unwound himself and showed us the new Andy Roddick. Chipping and charging, crisp volleying, backhands down the line and, most surprisingly, greatly improved movement. It wasn't enough, Federer silently and efficiently took over after Roddick took the second set in a match that was eerily close to Federer's final against Agassi last year. Federer had his third U.S. Open in a row after his fourth Wimbledon in a row and his ninth grand slam. The guy's game is impregnable and so much for Rafael Nadal's challenge, Rafa is long gone. Still, Roddick has now jumped over James Blake to become the top U.S. player again and he's playing like a top five player. Good for him.
The week started off with a huge party for Billie Jean King and ended appropriately with Martina Navratilova picking up her 59th slam title in her last U.S. Open appearance. She won the mixed doubles title with Bob Bryan then, before the men's final, was inducted into the U.S. Open Court of Champions along with Don Budge. It's the end of an era that marked the beginning of women's sports and made its way through the gay and lesbian movement to where we are now. And where we are now allowed Sharapova to make $18 million dollars last year.
After Sharapova won her title she graciously thanked Billie Jean but she might also want to treat the game that Billie Jean built with a bit of reverence. The fans and sponsors pay her salary and journalists give her media exposure. Anyway, queens these days don't have anywhere near the power they used to have.
See also: U.S. Open 2005: Federer the Inevitable, a column about last year's U.S. Open final between Federer and Agassi.
Average Rating:
5
out of
5
based on
267
user reviews.