…why has Blake dismissed Nadal in all three of their matches yet Federer can hardly beat him?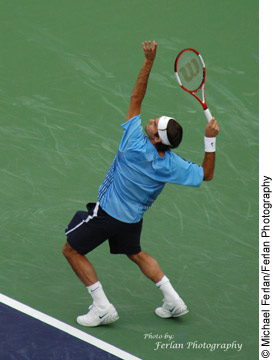 It was time for Federer-Nadal Round Nine at the Masters Cup in Shanghai but I wasn't excited. This was the first semifinal Rafael Nadal has reached since Wimbledon while Roger Federer hadn't lost since before the U.S. Open and that was only because he didn't want to play two Masters Series tournaments in a row.
After watching James Blake beat Nadal for the third straight time in round-robin play here, the obvious question is: why has Blake dismissed Nadal in all three of their matches yet Federer can hardly beat him? First of all, Federer's record against Nadal is misleading. He's 0-4 against Nadal on clay but he's 2-2 on fast courts and all of Blake's victories were on hard court.
Still, I imagine Federer watched the Blake-Nadal match and asked himself the same question. In Round Nine, he seems to have answered it.
Blake relies on power and athleticism. He gets to the ball early and hits it as hard as he can. As for Federer, when you have every stroke in the book, some times it can lead to over thinking. On grass court it's easy for him: attack, then attack again and it's over. He did that the entire two weeks at Wimbledon. But on hard court he seems confused about his game plan.
Nadal's game has a brute force and simplicity to it. Play every point like it's the last one, run around the backhand as often as possible, hit the ball hard and high over the net. Federer characterizes it like this: "He always plays the same way, but he does that so well."
Federer's game is more subtle. Low skidding slices, flat backhands, topspin backhands, hard forehands when the opportunity presents itself. He's not hammering his opponent as much as probing him. But Nadal is not easy to break down. Federer has to match the force of his game.
And that's what he did today. Less probing and more smashing. I've never seen Federer leap into the air and smash the ball so hard shot after shot. He broke Nadal right away and got out to a 4-2 lead and here we saw the first magical point.
Each player hit cross court then down the line as if they were doing drills at a tennis academy except they were hitting the ball three times harder and covering twice as much court. With every stroke, the crowd let out an "OOH", each time a little louder. At one point Nadal ran all the way from one end of the baseline to the other to run around a forehand after which they resumed their X-pattern. Nadal finally hit a drop shot before Federer, on the twenty-first stroke, sent a volley long.
Now I was excited.
Federer is now 3-6 against Nadal and gaining and that's a bad thing.
Federer had a bad game serving for the set at 5-3 and Nadal got the break to get back on serve. We've seen this before. Federer got out to a quick start in Dubai and Roland Garros against Nadal then slowed down and lost the match. Nadal gets steelier as the game goes on and Federer gets shakier. This time Federer dealt with it by resuming his power game and it worked. In the next game, we saw the second magical point.
For the first seventeen strokes, both players hit the ball as hard as they could down the middle of the court. After that, the ball went corner to corner until Federer took a ball early and crossed up Nadal by hitting to the previous spot. The Blake imitation worked. Federer had his break and the first set.
Federer broke Nadal again in the second set and had two match points at 5-4 but couldn't cash them in. Nadal was in full fighting mode now and two games later with Nadal serving, the battle escalated. Every point was exceptional. Each player hit a winner down the line that got the crowd on its feet. Federer hit his from outside the court – it barely passed inside the net post.
Federer got a third match point and here was the last magical point. It was short but magnificent. Nadal attacked first and sent Federer wide followed by a shot to the opposite corner then a drop shot as far from Federer as possible. Federer had so far to run he couldn't stop his momentum and ran himself outside the doubles sideline. Just before he got there, he hit a cross court forehand too hard for Nadal to return. He dropped to his knees and let out a primal scream. He won the match, 6-4, 7-5, and had his third win in nine matches against his nemesis.
Federer is now 3-6 against Nadal and gaining and that's a bad thing. The better Nadal gets, the further he falls behind and we'll probably have another two or three years of Federer dominance. It could take that long to see if Marcos Baghdatis or Novak Djokovic might be able to chip away at him.
Don't look to Blake for help. He lost in the final, 6-0, 6-3, 6-4, for his sixth straight loss to Federer. I shouldn't be complaining, Federer and Nadal played a magnificent match and Blake jumped all the way to number four by reaching the final.
I'm upset because tennis is sinking in the U.S and I'm sure my California home will lose an ATP tournament or two. We've already lost the WTA tournament in San Diego after 2007. I spoke to a woman yesterday whose family runs a tennis facility for juniors near Pete Sampras' hometown of Palos Verdes. They've removed twenty of their sixty courts and built courts for volleyball and speed soccer because there aren't enough tennis players. They should probably build a skateboard park while they're at it.
For now I'll have to be content with Federer-Nadal Round Ten and a few more incredible matches but I'd forgo that for the real thing, a bonafide rivalry.
2006 Masters Cup: Three Sets = 24 Minutes Of Activity
2006 Masters Cup: Calling Dr. Freud
2006 Masters Cup: Blake Gets Hot
Yanks On Fire In Shanghai