Tokyo ($118, 000 to the winner – nothing to sneeze at, outdoor hard court)
Wow, our guy Benjamin Becker is seeded this week in Tokyo and gets a bye to the second round. This is the first time he's been seeded in a regular tour event. Good work Benni.
Ivan Ljubicic lost in Bangkok to James Blake but he made it to the final in the first indoor hard court event of the year. I've been telling you, save him for the indoor season, particularly the indoor Masters Series events in Madrid and Paris.
I criticized Blake last week by saying that Marco Baghdatis had more heart and was more likely to make it to the final eight and qualify for the year-end Masters Cup but so far I'm wrong, Blake catapulted from number nine to number six with his win this week.
Dmitry Tursunov has turned into a clay court monster. He won the clinching match in Davis Cup against the U.S. on soft indoor clay then he took out Tommy Robredo last week in Mumbai. It's strange enough that Tursunov chose to play in a late season clay court tournament instead of an indoor hard court event but then he gets to the final, what's the world coming to?
By the way, check out his hilarious blog. I'm not sure he wouldn't have been a star in the entertainment world if his father hadn't hounded him into moving to the U.S. from Russia when he was twelve years old to pursue tennis. In between his hilarious stream of consciousness musings at ATP media sessions, you can hear some of the pain he experienced in his youth. When a journalist asked him for the players who inspired him when he was young, he answered that he didn't have any idols, once he got off the tennis court he didn't want to think about tennis any more. This is not the response of someone who was passionate about tennis.
Robredo and Tursunov should meet in the fourth round here and it's hard to choose because Robredo got to the semis in Cincinnati and the fourth round at the U.S. Open. I'm going with Tursunov out of convenience because I used all five of my Robredo choices during the hard court season.
Metz ($55, 742 to the winner, indoor hard court)
This looks more like a clay court tournament than a fast indoor tournament, David Ferrer, Albert Montanes, Ramon Ramirez-Hidalgo, Olivier Patience are entered, but there's nowhere else to go because all of the good hard court players are going for twice the money in Tokyo.
Ferrer is the top seed but his first round opponent, Marc Giquel, beat him indoors in their only meeting – he bageled him in the second set – and has a better career record indoors. Robin Soderling is also 3-0 against Ferrer so I'd stay away from him.
The Russians Marat Safin and Mikhail Youzhny meet in the first round because Safin is still in the rankings pit at number 72 but Safin is better indoors. However, it's a close call so be careful about picking Safin.
Juan Carlos Ferrero is seeded number two but his first round opponent, Julien Benneteau, has a comparable hard court record this year and Ferrero lost in the first round to a qualifier last week on a hard court.
I picked Soderling to do well in the U.S. Open and he tanked but he looks good to me this week. The bottom half of the draw is mushy, Novak Djokovic, Richard Gasquet and even Xavier Malisse could get to the final.
Picks
Go with five players at the richer tournament in Tokyo and three at Metz. Top picks: Ancic, Tursunov, Robredo, Andy Murray, Jarkko Nieminen, Soderling, Djokovic, and Gasquet. Second tier picks: Paradorn Srichaphan, Ginepri, Safin, Grosjean.
I'm always complaining about the number of ATP matches between players who've never met before even though they may have been on the tour for years. It's one of the reasons there are almost no rivalries on the ATP tour, a big problem because rivalries are the heart of a sport's appeal. This happens for two reasons (if you can think of more, leave a comment). 1. There are usually two or three tournaments in the same week in different parts of the world. 2. At least four spots in each tournament are filled with qualifiers and at least two spots are filled with wild cards. I can't think of another sport at the moment which does this.
This situation will improve when the ATP introduces round-robin events next year but for the meantime I'm going to keep track of the percentage of matches in each tournament between players who've never played each other in a regular tour event before. Let's call it the Zero Counter because the head-to-head record between these players is 0-0.
I forgot to do it for Tokyo but at Metz, 11 of the 31 matches are Zero Counter matches for a percentage of 31%. In one third of the matches, the players have never met before. I think that's pitiful.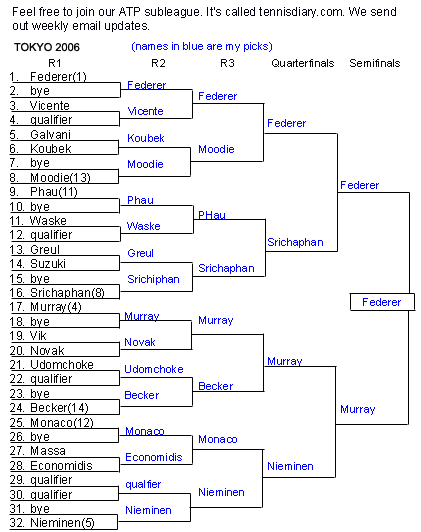 Average Rating:
4.7
out of
5
based on
261
user reviews.