People left my house around 3am this morning after hanging onto the last gasp of our "Last Night at CBGB's" Halloween party. CBGB's was a legendary rock club in New York's lower east side that recently closed. We had a few Joey Ramones and Andy Warhol turned up. Andy was a bit confused. He thought he was going to Club 54 but ended up at our party instead. Too many drugs poor guy.
My feet are killing me this morning and I can barely keep my eyes open. Worst of all, I woke up to my worst nightmare. I have a habit of forgetting to submit my team once I've written this column. Dumb, I know, but it means that I still had a Rafael Nadal, an Ivan Ljubicic, an Andy Roddick and a David Nalbandian to use in this very last week of the ATP fantasy tennis season. Alas, all four players are gone.
Ljubicic pulled out four days ago with a throat infection. Gimme a break, he's already into the year-end tournament in Shanghai and doesn't want to play. I don't know what Nadal, Roddick and Nalbandian came up with as excuses.
Now you know. Never hold onto big players for the last tournament of the season.
Igor Andreev returns to the tour this week for the first time since April after having knee surgery. If I'd had knee surgery, I would not come back for the last tournament of the year against the best players in a Masters Series event. He hasn't even played any challenger warmups. I hope he's not coming back too early.
If Andy Murray can get by Paradorn Srichaphan, he can get to the quarterfinals. That's not so easy, Srichaphan has two semifinals this fall and Murray hasn't done anything. Still, Murray beat Srichaphan in Thailand last year in their only meeting so I'm picking Murray. Gael Monfils is lurking but that ankle looked so bad when he turned it at Madrid, I don't see how he can play.
I also have Murray over Tomas Berdych but only because Berdych is defending a title here and he's not shown me that he deals with such pressures very well.
How about adding trading capacity to the ATP fantasy league? Let's say I decided to trade one Roddick for a Fernando Gonzalez earlier this season because I predicted that Larry Stefanki would push Gonzalez up the rankings. Of course I would have saved a few Roddicks for Wimbledon and the U.S. Open, but right now I'd be cleaning up because Gonzalez is playing well and Roddick is breaking down as he tends to do at the end of the year.
Which brings us to the biggest match of the tournament: Fernando Gonzalez versus Mario Ancic. Gonzalez is ninth in the race to Shanghai and Ancic is tenth. There are only eight spots available. Tommy Robredo is in the eighth spot and I have him going out to Sebastien Grosjean so this match is very important. Ancic won the title in St. Peterburg this week but Gonzalez has been to three straight finals. I'm going with Gonzalez.
If Gonzalez and Nikolay Davydenko meet in the quarterfinals there'll be a few interesting subtexts. Davydenko injured his foot last week in St. Petersburg and retired. If Davydenko gets to the quarterfinals, he gets into Shanghai. It's to his advantage to get to the quarterfinals then quit or, at least, underplay, because he still has to play in Shanghai and after Shanghai, he'll play in the Davis Cup final. We know Davydenko isn't that concerned about Davis Cup because he played in Beijing the week before the semifinals and was too tired to play, but I doubt he'd put himself through a semifinal in Paris if it impaired his chances in Shanghai.
Therefore, even though Davydenko is 3-0 lifetime over Gonzalez, I'm going with Gonzalez.
I ignored home court advantage for Richard Gasquet last week – he won the title in Lyon – but I'm not doing it this week. If Marat Safin gets by Robin Soderling he'll meet Gasquet in the third round. Even though Marat Safin is 3-0 over Gasquet, I'm going with Gasquet because Paris is in France and two of Safin's wins were in 2002.
Gasquet versus James Blake is hard to pick because four of the Shanghai spots are up for grabs and Blake is currently in seventh place. By the time this match is played, Blake might already have a spot in Shanghai and let up enough mentally to give the match to Gasquet. Gasquet is 1-0 over Blake and I think Blake will have hit spot in Shanghai if he gets to the quarterfinals so I have Gasquet all the way to the final.
Don't be shocked if Federer loses this final if he meets Gasquet. Federer had a very tough time with Srichaphan last week, he barely pulled the match out in a third set tiebreaker.
Zero Counter
Each week we add up the number of matches between players who've never played each other before in an attempt to explain why there aren't many rivalries on the tour – players don't meet each other enough – and also show that there are too many tournaments with too few top ranked players to go around.
This week 20% of the matches are Zero Counter matches. That's the same result we got for the Madrid Masters. The lower tiered tournaments have been averaging 33% Zero Counter matches.
There is one egregious example this week: Fabrice Santoro and Fernando Gonzalez have never played each other despite a combined total of twenty-four years on the tour. That is absurd.
Picks
Top tier picks (not that anyone has any left, mind you): Federer, Novak Djokovic, Davydenko, Gonzalez, Berdych, Murray, Blake, Gasquet. Second tier picks: Safin, Ancic, Robbie Ginepri, Srichaphan, Tommy Haas, Sebastien Grosjean.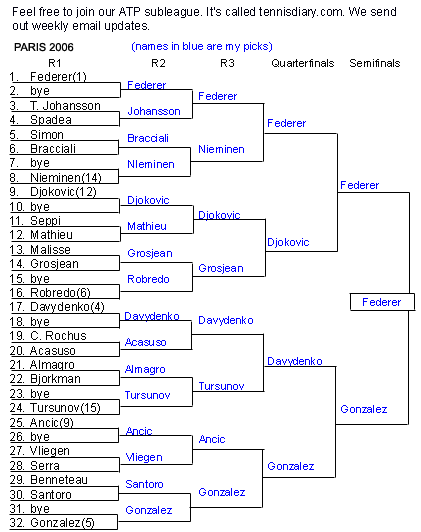 Average Rating:
4.8
out of
5
based on
253
user reviews.