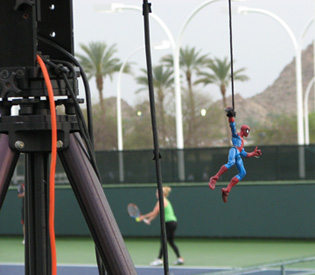 During my meanderings around the Indian Wells Tennis Garden this morning, I saw a huge camera crane sitting on the edge of the field where tennis players stretch and sometimes play soccer. As I walked closer to the camera crane I saw a small Spiderman figure suspended haphazardly from one arm of the crane.
I asked the crane's keeper if the little Spiderman was a leftover casualty from the current $65 million Broadway show starring Spiderman. The show's opening has been delayed six times because the choreography is too complex for the current technology. One human Spiderman fell out of an aerial stunt at thirty feet and plunged into the orchestra pit in midperformance.
Here at the BNP Paribas Open we have our own version of Spiderman: the Spidercam. Hopefully it will not fall out of the sky and land on the court. We certainly don't need any more injuries. The quarterfinal match between Maria Sharapova and Peng Shuai should have been the third match of the day. Instead it's the first match after Victoria Azarenka retired with a hip injury and Tommy Robredo withdrew with an adductor injury.
The Spidercam looks like a very large version of those old table microphones radio announcers once used. It's attached by four cables – two to the north tower and two to south tower of the stadium court – and it swoops down to court level as the players enter and anywhere else in between as needed.
After all that work I put into introducing the Spidercam, it's not swooping during the match between Sharapova and Peng. Maybe that's because these two players don't move around very much – at least not forward and back. Peng is a smaller version of Sharapova with a weaker – albeit more consistent – serve. Each player hammers the ball as hard as possible and hugs the baseline.
Peng seems a bit excited in the first set and overhits the ball while Sharapova is on fire and breezes through the set 6-2. Sharapova is rolling along in the second set just as Japanese tennis journalist Akatsuki Uchida and I are discussing serving problems in the women's game. Wouldn't you know it, Sharapova hits three double faults in one game and gives back a break to let Peng pull even in the second set at 2-2.
Sharapova had a serious shoulder problem and that partly explains her serving problems. But confidence – which is much of what the serve is about – is a problem in general in the women's game. Ana Ivanovic is still recovering from winning the 2008 French Open. She hasn't been past the fourth round in a major since. Dinara Safina reached three grand slam finals but hasn't been past the fourth round in the last year and a half. She's had injury problems too but confidence was a problem long before the injury.
Speaking of lack of diversity – I'm talking about an all around game by the way, not ethnicity – Sharapova gets a gimme at close range and puts it into the net to put Peng up 6-5. Now Sharapova has to battle her serve to stay in the set. She hits consecutive serves into the net – actually, rather low into the net which often belies hesitation. That double fault is followed by two forehand errors and Peng pulls even by winning the second set 7-5.
Confidence and diversity might benefit from a similar solution. I made the suggestion to Aki that women could improve their range of skills by playing more than one sport growing up. John McEnroe is trying this approach at his new tennis academy on Randall's Island in New York.
On a volleyball court they'd learn to swing through the ball and improve their serve – let alone the benefits of jumping. On a soccer pitch they'd have no choice but to move forward and back. Hell, send them to a martial arts master. Not only would those kicks free up their hips and the punches strengthen their arms and shoulders, they'd also figure out how to fight. Put on some headgear and shin pads and let the sparring begin.
Better than that, teach them a Shaolin tiger form. Sharapova is certainly not a pussycat – I remember well the comments of her early coach Robert Landsdorp. When asked whether the women players were divas, he famously said that the bigger the bitches they are, the better they play. But we're talking about developing confidence here and that's not necessarily the same thing as being a, um, diva. Let a young girl run through a tiger form where she strikes and scratches and leaps about and watch her embody the spirit of the animal. An animal wouldn't last five minutes in the wild if it was worried about what it looked like unless, maybe, it was a peacock.
With Sharapova serving at 2-3 in the third set, the photographer behind me suggests that Peng will go up 4-2 and I offer him $5 for the opposite side of that bet. (Please don't let the WTA read this, they'll kick me out for betting on tennis.) Peng does get a break point but Sharapova scrapes the sideline with a gorgeous backhand to get to deuce and wins the next two points. I didn't collect, honest.
Sharapova breaks Peng in the next game then wins her serve to go up 5-3. She closes the game by running around her backhand and smacking a return winner and it's over. Sharapova wins the match 6-2, 5-7, 6-3. She's on her way to the semis for first time here since 2008. That should help her confidence.
twitter.com/ninarota