Apart from Tommy Haas' surprising run to the semifinals this week, the other Tommy has been the big surprise. Most of us expected Tommy Robredo to be passed by the fast charging Fernando Gonzalez in the race to take the last spot in the year-end tournament in Shanghai. Even Mario Ancic had a good chance to jump over him. But Robredo beat Sebastien Grosjean – no easy task in Paris – and Jarkko Nieminen and he's on his way to Shanghai.
The other reason Robredo's here is that buzzards collect when Roger Federer and Rafael Nadal skip a Masters Series event because there is a rare Masters shield to be had.
We know why Robredo's opponent today, Nikolay Davydenko, is still playing after having qualified for Shanghai: Davydenko is constitutionally incapable of skipping an ATP event. But what's Robredo's excuse? Why is he risking injury to keep playing here? Well, his parents are in the stands for one thing and he certainly doesn't want to disappoint them.
Both of his parents are tennis coaches. That might be similar to being raised by Freudian analysts except that your parents are endlessly analyzing your tennis game instead of your id. Could be tough because it's rare that parents are objective about their child's tennis skills. Typically parents are either too optimistic, and therefore too demanding of their child's capabilities, or they're chronically disappointed, and therefore overly critical.
The other reason Robredo's here is that buzzards collect when Roger Federer and Rafael Nadal skip a Masters Series event because there is a rare Masters shield to be had. Federer and Nadal won eight of the nine Masters Series events last year and six of nine this year.
We had low expectations for Robredo because his strength is clay court tennis and he has a losing record on indoor courts. We shouldn't have dismissed him. The match today turned out to be an fascinating example of the emotional rollercoaster that makes up most ATP matches.
Davydenko started in rhythm and hit so many solid ground strokes in the first set it only took a few errors by Robredo to go down a service break. After that, Robredo was discouraged, which affected his serve and led to a second break, which led to losing the first set. Davydenko was content, not that he'd ever show it, and Robredo was a bit befuddled, what could he do?
When your opponent is playing well, you can either keep doing the same thing – and keep losing – or you can try a different tactic, coming to the net more often, say, or throwing in some off speed shots to change the pace. Often, though, this tactic takes you out of your comfort zone. If it was something you were comfortable with, you'd already be doing it, wouldn't you?
Robredo decided to be more aggressive and that may have affected Davydenko because he started to miss his first serve and lose the rhythm on his groundstrokes. But maybe that wasn't the problem and here is another part of the emotional rollercoaster. Davydenko sometimes has trouble closing matches out. Something about deserving victory I'd say. Maybe he should have had analysts for parents.
In any case, Robredo was inspired by this turn of events and hit a fantastic running passing shot at 5-5 in the second set to get the break and even the score.
Now we get to one of the more discouraging parts of the rollercoaster: injuries. Robredo has a slight tear in his calf and received treatment for it at the end of the second set. In the second game of the third set, he pulled up after reaching for a deep ball. He lost the game to go down 0-2. No doubt Davydenko saw Robredo stumble and that was enough to lift his spirits and restore his rhythm which tells you that it was entirely a matter of nerves in the first place.
By the time Davydenko was up 5-2, Robredo's movement was noticeably impaired and Davydenko cruised to a 6-3, 5-7, 6-2, victory. And there you have it, one player's misery is usually another player's inspiration.
If you aren't carted off on a gurney, we expect you to play your heart out, especially with so much riding on the result.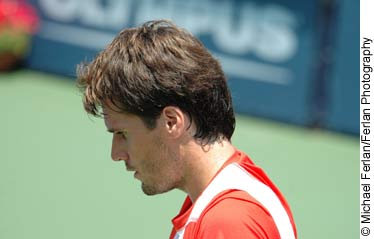 When you pick the winners in a sports event, one of the qualitative variables is motivation. By that measure, Tommy Haas was the pick to beat Dominik Hrbaty in their semifinal match. If Haas wins this tournament he can move past James Blake and take the last spot in Shanghai.
Haas should have been able to overpower Hrbaty as long as he didn't self-destruct, but he was already swearing at himself by the fifth game after failing to cash in on a break point. He was nice enough to use English so I could make out what he said. Robredo may have the tennis coach parents but it's Haas who has the emotional problems.
Haas seemed out of rhythm. He was late on backhands and volleys were unpredictable. After the players exchanged breaks earlier in the set, Haas lost his serve again and lost the first set. Then the situation became clearer. Haas called for the doctor and complained about weakness and a headache. That explains his erratic play but there's a berth in Shanghai at stake. Surely that motivation could carry him through the match.
He played two more games and called it a day. The crowd was pissed. If you aren't carted off on a gurney, we expect you to play your heart out, especially with so much riding on the result. Not only that, but now the final is inconsequential.
After the match Haas said that he had vomited earlier in the day and appeared to have a virus. On a day like this, I pine for Michael Jordan scoring 38 points in the 1997 NBA finals while fighting the flu. This was Haas' chance at the final and he didn't even hang around long enough to see if Hrbaty might accidentally twist an ankle or run into a ballboy and knock himself out and have to retire. Could happen. And Haas wouldn't have been the first player to vomit on court.
James Blake wasn't pissed. He can now get on a plane for Shanghai. At least someone is happy.
See also:
2006 Paris Masters Quarterfinals: Petulant Children
2006 Paris Masters: The French Armada
2006 ATP Fantasy Tennis: Paris Masters
Average Rating:
4.9
out of
5
based on
231
user reviews.