Could Nadal be more like Borg than we thought?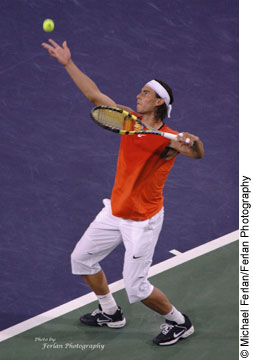 There are four players left in the draw at the Masters Series event in Cincinnati but it seems rather empty because Roger Federer and Rafael Nadal are gone. Federer forgot to show up for his second round match against Andy Murray and now Rafael Nadal is gone. Quick, guess who beat Nadal…. Nope, you're wrong, it wasn't Federer and it wasn't Tomas Berdych and it wasn't James Blake. It was Juan Carlos Ferrero.
I told you last week how to beat Nadal after Berdych beat him in Toronto. Ferrero is not as tall as Berdych – Berdych is 6'5″ which makes Nadal's high kicking balls less of a problem – but he got the two most important parts of the strategy correct: 1. stay up on the baseline 2. attack, attack, attack.
Ferrero didn't attack the net but when he had an opening he flattened out his stroke and hit the ball as hard as he could. If you rush Nadal you can force him into errors because it takes him time to wind-up for those big topspin shots.
Nadal made a very un-Nadal like mistake: he played the big points badly. Up 6-5 in the first set, he missed a swinging volley that would have given him a break point. In the first set tiebreak he double faulted to go down 0-4 and double faulted again to give Ferrero set point. In the second set tiebreak, yes it was that close, Ferrero helped himself with a service winner and an ace but Nadal made two big ground stroke errors. Ferrero was into the semifinals with a 7-6(2), 7-6(3) win.
Could Nadal be more like Borg than we thought? Borg won six French Opens and five Wimbledons but never managed to win a hard court US Open. Nadal got to the final at Wimbledon this year after winning the French Open but he's inconsistent on hard courts. Last year Nadal won a Masters Series event on hard court in Montreal and the Madrid Masters Series event on the faster indoor court but he hasn't reached the final in any of the four hard court Masters Series events this year.
On grass you have to come to the net and Nadal did that at Wimbledon but he hasn't yet figured out how aggressive he needs to be on hard court. He came to the net three times in the first set today, not nearly enough. He let Ferrero dictate the points.
Borg had the game to win the US Open, that wasn't the problem. He hated the U.S. Open because he didn't like to play under the lights and he also thought the U.S. Open organizers gave the U.S. players favorable scheduling. They did. Despite Borg's protests, they scheduled him against U.S. players at night.
So the Borg-Nadal comparison doesn't hold. Borg had the game to win the U.S. Open and Nadal will probably figure out how to play hard courts. But that doesn't mean Nadal will win a U.S. Open. He may not because the competition is greater. There aren't many players who play well on grass but there are a number who excel on hard court.
Federer sounded like he was protecting his ranking points in Cincinnati. He said that "it's just basically something of the impossible" to win consecutive Masters Series events because you play twelve matches in thirteen days. His goal was to win a few early rounds. You lose ranking points if you go out earlier in a tournament than you did the year before but Federer didn't play this event last year so his early loss didn't cost him anything. He couldn't stay home without incurring a large fine since Masters Series events are mandatory. Maria Sharapova skipped the women's event in Montreal this week because she said she was tired and got a $150, 000 fine. She should have done the same thing as Federer, turn up with few expectations, lose early then go home.
Federer and Nadal may still be tired from reaching the finals at the French Open and Wimbledon but Borg won the French Open and Wimbledon back to back three times so what's their problem? Borg had it easier. He only played the Australian Open once, he lost in the third round, and he didn't have to play consecutive Masters Series events against most of the top ten players three times a year. Federer won Indian Wells and Miami back to back this year and last year but they are two week Masters Series events so you get twice as much rest. Toronto and Cincinnati are one week events.
After the 2008 Olympics, the ATP schedule will be revamped and the Masters Series format will change. As I've said many times, they should keep these events because all of the top players turn up, they just need to get rid of the consecutive one week version.
"Once you get on there, friendship ceases and, really, afterwords it's really the same."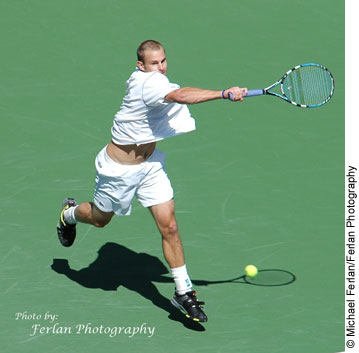 Two weeks ago Jimmy Connors, Andy Roddick's new coach, was interviewed by Jim Rome on Rome's radio show. Connors was his usual combative self. He complained about the media's treatment of Roddick. He said that the media builds players up then tears them down just as quickly the moment they falter. "I'm tired of seeing him get hit with a heavy sledgehammer all the time, " were Connors' exact words. Roddick is getting criticism because his ranking has fallen and he hasn't won a tournament this year.
I'm happy to see Connors go to bat for his boy but I was even more interested in something he said later in the interview:
There's still a little bit of something maybe that I can give to him that was a big part of what I did.That kill-or-be-killed attitude …was something that I took onto the court with me and I left the court with that too. …Once you get on there, friendship ceases and, really, afterwards it's really the same. It's tough just to throw that away and say, o.k., every thing's fine now.
Connors took his tennis matches personally and he took that attitude off the court and into the locker room. He had few friends on the tour outside of his very small entourage. Today's ATP tour is different. It's a point of pride with Federer that he's friendly with all of the players. Lleyton's Hewitt's combative behavior is viewed as abnormal. Roddick takes pride in his sportsmanship. In the 2005 Rome Masters tournament, he had triple match point against Fernando Verdasco when Verdasco hit a double fault. Roddick said that the serve had been good and refused to accept the point. Verdasco saved his serve and went on the win the match.
However, Roddick is an emotional guy and he will get into it with players on occasion. In the first set of his quarterfinal match with Andy Murray last night, both players hit balls at each other early in the first set. After Roddick ducked Murray's missile, he pointed his finger up to indicate that Murray's ball was out, an obvious attempt to get under Murray's skin. Later in the set, Roddick ran down a Murray lob, turned on it and hit a blistering forehand past Murray at the net then put his finger up again to add a bit more attitude to the mix.
I like this. Roddick plays better when he's emotional and aggressive and we can assume that Connors gets some of the credit for the attitude adjustment. Roddick's overall game is more aggressive. He stays on the baseline instead of miles behind it and he continues to come to the net no matter how awkward it has looked at times. In the second set, Roddick rumbled up to the net grunting like a rooting pig to get to a drop shot. Not pretty, but it worked. He put the shot behind an approaching Murray and got a break point.
Roddick won the match, 6-3, 6-4. He had some luck because Murray was exhausted from playing too many matches. But sometimes you need a break to turn things around and when it arrives, you'd better take advantage of it.
There've been more than a few breaks this week. A Federer loss, a Nadal loss, an exhausted Murray. Let's see who else takes advantage.
You can read How To Beat Rafael Nadal here.
You can read about the Roddick and Connors partnership here.
Average Rating:
5
out of
5
based on
276
user reviews.