This is the last year that the WTA women's tour championship will be held in Los Angeles due to lack of interest. The WTA must be getting desperate for coverage, they even gave me press credentials.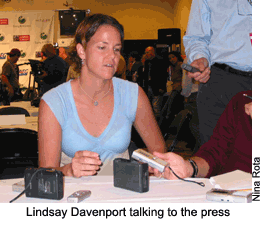 That is why I was sitting at a round table with Mary Pierce and four or five journalists in the media center at Staples Center yesterday afternoon. This is Pierce's first appearance at the championship since 1999 so we were asking her questions such as, "Why do you think you've been so successful this year?" and "What's the biggest improvement you've made in the last few years?"
During a break in the love fest, a journalist sitting opposite Pierce asked in a very aggressive voice, "Mary, three out of the four grand slam winners are not here this week. How can you call it a championship without three of the four grand slam winners?" Pierce said that there are many players who play well week in and week out and not just a few weeks a year, but that wasn't a satisfactory answer. "How can you say that it's a championship if three of the slam winners aren't here?" the journalist asked again. Pierce bared her teeth and said, "Go and speak to Larry Scott at WTA, he makes the rules." Scott is the CEO of the WTA.
That shut him up for a bit but after another journalist asked Pierce a question, the grumpy guy chimed in again. "Go ahead, give a politically correct answer, " he said, in a sarcastic reference to Pierce's reluctance to answer his previous question.
The missing grand slam winners are Serena Williams (Australian Open), Justine Henin-Hardenne (French Open), and Venus Williams (Wimbledon). Henin-Hardenne has a hamstring injury and the Williams sisters have other things to do.
At the end of the session, I walked up to the man and introduced myself. He said his name was T.J. Simers. "Oh", I said, "now it all makes sense." Simers is a sports columnist for the LA Times and is well known for lambasting anyone and everyone. He call Los Angeles Dodgers owner Frank McCourt a parking lot attendant and refers to McCourt's wife, Jamie, as the screaming meanie.
Our roll models today are Michael Jordan and Tiger Woods. Neither player ever said an unpleasant thing about anyone.
Simers did have point. He wasn't asking Pierce to change the ranking system or change the rules for getting into the year-end championships. He was asking her to state her opinion. Does she think this is a legitimate championships without three of the four grand slam winners present or doesn't she?
If Simers had been a bit less grumpy and followed up on his question, he could have gotten to the heart of a big problem with the WTA tour. Everybody agrees that the tour is too long but nobody does anything about it. The US Open Series, for instance, has five tournaments – six for the men – that lead up to the US Open then two weeks for the Open itself. That's seven straight weeks of tennis.
The problem is that the WTA represents both the players and the tournament directors. Amelie Mauresmo said that players have had many meetings with the WTA but the only thing they've done is reschedule Fed Cup, which shortens the season by two weeks for some players only. Changing the Fed Cup schedule, that's not quite the same as eliminating the Bank of the West Classic in Palo Alto or the Rogers Cup in Toronto. The result is that players skip a significant number of tournaments, sometimes pulling out at the last minute, and WTA doesn't stop them because their job is to support the players.
If the players want to challenge the WTA, they need to take some kind of job action, boycott a tournament or threaten to create a players union separate from the WTA. But that requires someone who is willing to speak out and, as we saw with Pierce, players are not willing to speak they're mind let alone mount a challenge. Our roll models today are Michael Jordan and Tiger Woods. Neither player ever said an unpleasant thing about anyone. Jordan refused to support a black senatorial candidate running against Jesse Helms because "Republicans buy shoes, too." When Woods was asked to criticize Augusta National, the site of the golf Masters Tournament, for refusing to allow women members, he said, "It's not the players' fault."
Pete Sampras is the best tennis player of all time but Billie Jean King is my number one because she was the most important player in tennis. She was the leader in the movement to start a separate women's tour and, in so doing, played a huge roll in the creation of women's sports as it is today. She became a lighting rod of controversy for the feminist movement, and, unwillingly, for the gay and lesbian movement after a former lover bought a palimony lawsuit against her. Even with all of that psychic baggage, she was able to win twelve grand slam singles and twenty-five grand slam doubles titles.
Players today don't have to be pioneers, they only have to threaten job action and be willing to go through with it. They will be criticized for being whining millionaires but that's a small price to pay for getting reasonable working conditions.
Average Rating:
4.7
out of
5
based on
277
user reviews.