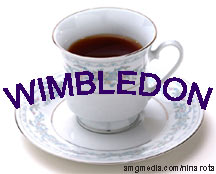 Last week I went to a retrospective of photographer Lee Friedlander's work at the Museum of Modern Art. There were four photographs of Madonna in the show. You could see her armpit and leg hair. Clearly this was before Material Girl and the pointy, armored breastplates. Before she transformed herself for every new CD release.
The ESPN broadcast of the women's semifinals today starts with a montage of Maria Sharapova's various marketing activities to the sound of Madonna's fashion anthem, Vogue. Maria has reached a similar iconic status. She is now the highest paid female athlete in the world. Announcer Mary Carillo calls the opening sequence "the tease". How appropriate is that?
Venus Williams, on the other hand, makes fashion. And designs interiors. Both of which have interfered with her tennis game. But here she is in the semifinals and though it seems like she's been wandering in the hinterlands for a long time, she has been in four of the last five Wimbledon finals.
This was supposed to be the second match of the day but rain is threatening so Venus and Sharapova are playing at the same time as the other semifinal between Lindsay Davenport and Amelie Mauresmo. Even though they are playing much earlier than expected, both players come out firing. They are clobbering the ball. Sharapova is attacking Venus' forehand and Venus is taking a bit off her first serve so she doesn't expose her weak second serve.
Sharapova slams the ball low and hard into the corner and Venus retrieves it again and again, sending it back just as hard and just as deep. With Sharapova serving at 2-3 and break point against her, the two of them crush ball after ball for fifteen strokes in a rising duet of screams and grunts that get louder as the point goes on. Sharapova finally hits a backhand into the net and goes down a break for a score of 2-4.
We are seeing fabulous tennis from both players but Venus, in particular, is moving exceptionally well. The biggest hitter Venus has faced is probably her sister Serena, but those matches don't count because they were never competitive. By the time Sharapova has fought back to 6-5, she is getting 81% of her first serves in but winning over 56% of those points. That's how well Venus is getting to the ball.
Sharapova gets criticized for the lack of variety in her game. She doesn't change pace and she doesn't come to the net very much. Of course, she's only eighteen years old. Venus is twenty-five. Experienced enough to run around her forehand and smack backhand returns if Sharapova insists on serving to her forehand and smart enough to come to the net when she gets the opportunity. That's how she wins the first set tiebreaker 7-2.
That's how it's been all day. Sharapova smashes a shot at warp speed, Venus gets to it and hits a winner.
Venus breaks Sharapova in the first game of the second set and holds serve. Sharapova is hitting balls that would be winners against any other opponent and she is now down a set and a break. Exactly the same hole Sharapova dug herself during last year's semifinal against Davenport. Can she extricate herself and defend her title?
Sharapova is serving at 1-3 with the score at deuce when Venus hits the shot of the match. Sharapova hits a wicked hard serve right into Venus' body but she manages to get out of the way just enough to hit an inside out backhand at a very sharp angle that lands inside the service line and spins off the court. That's how it's been all day. Sharapova smashes a shot at warp speed, Venus gets to it and hits a winner. Venus is up two breaks in the set.
Sharapova doesn't give up, she gets a few break points in the next game that goes 15 points before Venus finally holds for a 5-1 lead. But Sharapova curiously doesn't ask the umpire to stop the match even though it's raining and the ball is skidding. Take a bathroom break, leave the court to change your clothes, ask the umpire to halt the match, do something, anything, to try and throw Venus off.
On her first match point Venus sends a sitter long but she converts her second match point to win the match 7-6 (2), 6-1. Despite the second set score, we've seen a brilliant match with two women slugging it out like it was a match on the men's side of the draw.
Venus has played one of the best matches of her career and we're happy to see her back.
Average Rating:
4.5
out of
5
based on
250
user reviews.