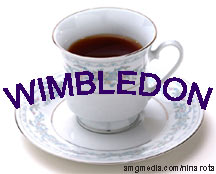 We're in the quarterfinals and Maria Sharapova has been steamrolling through the draw at Wimbledon. Only one player has taken four games from her in a set. Her opponent today, Nadia Petrova, is the second. They are at 4-4 in the first set and Petrova is facing a break point, the first of the match.
Petrova got this far by playing aggressively and using slice approach shots to counteract Sharapova's metronomically powerful ground strokes. The laws of physics require conservation of momentum. In other words, the harder you hit the ball at a power player, the harder they hit it back at you. If Petrova can change speeds and throw in a few junk balls, she not only reduces Sharapova's power, she can throw off Sharapova's rhythm and mess up her metronome.
Petrova saves the first break point with a good serve then wins the game and goes up 5-4 with two unforced errors from Sharapova. Sharapova then starts her service game with two aces.
A curious thing has been happening with Sharapova's serve in this tournament. She's won 99% (!) of her service games. This would be a record if it held up throughout the tournament. It's curious because women don't usually have a serve like Andy Roddick or Joachim Johansson that separates them from the other players and gives them a decided advantage in their service games. It's even more curious because Sharapova is not a big server. She regularly serves in the low nineties, sometimes in the low 100's and even uncorked a 75 mph second serve today. On top of that, she seldom serves and volleys and hasn't been going to the net unless it would be silly not to.
It may be that she's taken a little off her first serve and is focusing on placement instead. If she's not playing aggressively and doesn't have an overwhelming serve, she has to put pressure on her opponent exclusively from the baseline. It's both a testament to her consistency that she's been able to do that through four rounds here and a weakness that gives her opponents hope.
Petrova gets an ace of her own to go up 6-5 then Sharapova forces a tiebreaker when Petrova hits the return of a 79 mph second serve beyond the baseline. Maybe Maria is hypnotizing her opponents with that slow twister.
Confidence doesn't just pop up one day and bite you in the behind. You have to fight through five setters and rain delays and great expectations to develop the confidence that allows you to stick with your strategy through heartbreaking losses and disappointing play.
In the tiebreaker, Sharapova signs an aggression pact with Petrova and hits two approach shots. Sharapova gets a set point at 6-4 with a good serve down the middle but Petrova gets out of it with an approach shot of her own. Petrova has never won a tournament before and she has a chance to take the first set from last year's champion in a grand slam. She HAS to take advantage of the opportunity.
But she doesn't. She evens the tiebreaker at 6-6 with an ace but Sharapova plays the big points as a top ten player should: she forces Petrova into an error with a forehand down the line then hits a clean winner with a forehand cross court.
Petrova looks a little out of sync at the beginning of the second set. She loses her serve in the second game. She shows sign of life with a return and volley in the fifth game but Sharapova serves two aces to keep the momentum. That's what veterans do. Petrova is not playing with the combination of aggressive play and change of pace that kept her even with Sharapova in the first set. Sharapova breaks her again to win the second set and take the match, 7-6 (6), 6-3.
Surely Petrova was discouraged to lose the first set after getting to 6-6, but why did she abandon a strategy that was working? Did she lose her confidence?
The answer lies in the match between Venus Williams and Mary Pierce. Venus trounces Pierce in the first set, 6-0, but here we are at the end of the second set and we have a tiebreaker.
Pierce is thirty years old and Venus has two Wimbledon titles. They've both suffered a lot of personal turmoil. They've both survived the brutal British Press. They are veterans. Confidence doesn't just pop up one day and bite you in the behind. You have to fight through five setters and rain delays and great expectations to develop the confidence that allows you to stick with your strategy through heartbreaking losses and disappointing play.
Petrova doesn't have that yet. Pierce does.
The second set is as good as the first set was terrible. In the tiebreaker, Venus and Pierce slug the ball as hard as they can and run each other deep into the corners. Pierce gets her first set point at 6-4 then hits two forehands into the net. Venus gets a match point at 7-6 after Pierce runs her wide to set up the open court but sends the backhand volley long. Pierce gets a second and third set point. On this last set point, Venus hits a deep inside out forehand and Pierce gets a bad bounce. Venus gets another match point at 11-10 after hitting a lob off a Pierce floater followed by a winning volley. Pierce hits a backhand long at Venus finally wins it, 6-0, 7-6 (10).
Tell me now, didn't you expect Venus to fade away and go into interior design fulltime while Serena hung in there just long enough to get to some grand slam finals and win a few of them? Didn't you expect Lindsay Davenport to be long gone after a series of cortisone shots and a discouraging finals loss? Instead, Venus is into the semis, Davenport has beaten Clijsters twice in a row and Serena has disrespected a grand slam by showing up with an injury and no match preparation.
Things are not always what you think they are.
Average Rating:
5
out of
5
based on
294
user reviews.