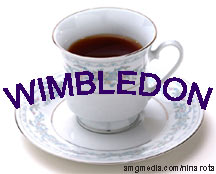 Laver–Rosewall, Borg–McEnroe, Evert–Navratilova, even Billie Jean King and Bobby Riggs. Just give me some kind of rivalry. Anything. Or even a story. Venus and Serena were not a rivalry, they never played well against each other, but they were always a story.
If there is to be a rivalry, one of the rivals has to win now and then. Andy Roddick lost the Wimbledon title to Roger Federer again on Sunday and it was worse than the 2004 final. At least last year Andy was up 4-2 and taking it to Federer when the long rain delay came. They were even in sets at the time. Federer used the delay to change his strategy and switch to a serve and volley, he had no coach at the time mind you, then came out and beat Roddick, 4-6, 7-5, 7-6, 6-4.
When the rains come this year, Roddick has just lost the second set tiebreaker to go down two sets to none. Could he turn the tables on Roger and use the delay to turn the match around?
There are problems long before the second set tiebreaker. Roddick's strategy is to serve big, attack Federer's backhand and come to the net as much as possible. Roddick is serving at 2-3 in the first set when he hits a good inside out forehand approach. Federer barely gets to the ball and puts up a defensive lob. Roddick smashes a deep overhead but Federer tracks it down and turns it into a crosscourt passing shot for a winner. He hit a winner off an overhead smash! It's exactly the same thing he did to Hewitt in the semifinals and it's just as discouraging. He wins the first set 6-2.
By the end of the set, Federer has one, yes, that is correct, one unforced error, fifteen winners and two points lost on his serve. Oh, by the way, he has won thirty-five straight matches on grass and twenty straight tournament finals.
It's not the best of conditions for Roddick. His semifinal with Thomas Johansson was stopped by rain after the first set Friday night and was played out before the womens' final yesterday. Roddick had to play three sets and two tiebreakers before finally finishing off match. You can see that it has affected Roddick. His serve is not hitting 140 mph and he's not moving well.
It would be hard to overestimate the mental strength needed to win twenty straight tournament finals. This is a profoundly confident human being.
Roddick gets back in the match with an early break in the second set when Federer makes a rare mental error. On break point, Federer runs Roddick wide and has the open court to hit an inside out forehand. Instead, he chooses to hit the ball at Roddick. It's curious because Roddick is still moving poorly. Federer gets the break back in the sixth game with the help of another thoroughly discouraging play. Roddick has been serving effectively into his body all day. This time Federer just barely blocks the return deep into the corner. As he sees Roddick run off to get the ball, he sneaks into the net and picks Roddick's shot up off the grass to hit a crosscourt volley for a winner. Federer misses nothing. Later in the match, Roddick came in to hit a short shot and backpedals instead of continuing forward. Federer sees this and immediately comes to the net with a drop shot approach that wins the point.
Still, Roddick gets a set point at 5-4 in the second set but he lets a Federer passing shot go and it lands just inside the baseline. Not a good idea on set point and probably not a mental error Federer would make.
The tiebreaker is a disaster for Roddick. He fails to win a point on his serve and he's now down two sets. Luckily the rain has come. That's my homeland for you. There was so much rain when I was growing up in England that even the bedclothes were damp.
The rain clears after only eleven minutes but things don't get much better for Roddick and it doesn't look all that good for those hoping for a rivalry. It's not coming any time soon. Both Roddick and Hewitt are better players than when they were ranked number one. Hewitt's serve has improved dramatically and he attacks the net often and effectively. Roddick is in better shape and he's mentally stronger. But Roddick has now lost nine of the last ten matches with Federer and Hewitt has lost eight straight including the 2004 U.S. Open final when he lost two sets at love.
Federer wins his third straight Wimbledon title, 6-2, 7-6(2), 6-4, and we are left to celebrate the career of the transcendent tennis player of our era. It would be hard to overestimate the mental strength needed to win twenty straight tournament finals. This is a profoundly confident human being. He steps onto the court knowing exactly what he needs to do and knowing what changes to make should he need them. As fast as other plays improve their game, he improves faster.
Roger is starting to seep into my consciousness. I was practicing my ground strokes yesterday when I spontaneously broke out with a graceful, balanced one-handed topspin backhand. I am a two hander. I once had a one-handed backhand that was as awkward as a Monica Seles volley. It caused me a lot of pain and, finally, a severe case of tennis elbow. But this one-hander was a thing of beauty.
I can only imagine that hours of watching Roger glide across the court and hit those gorgeous shots has somehow seeped deep into my tennis memory muscle cells. Tennis may be suffering but my tennis game is happy.
Average Rating:
4.6
out of
5
based on
152
user reviews.