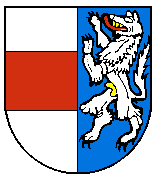 Since I'm one of the doofuses who chose Nadal and Federer on my ATP Fantasy Tennis team for Hamburg this week, I'm very thankful to Tommy Robredo. He'll meet Radek Stepanek in the Hamburg final tomorrow and, if he wins, I'll get that $430, 000 I've been looking for. When Federer and Nadal dropped out, the draw opened up and allowed Stepanek get to the final. Who says Martina Hingis' boyfriends always have bad luck?
This week's ATP tournament had been held in St. Poelten for the last thirteen years but has moved to Pörtschach this year. Both towns are in Austria.
I couldn't find out if there was a saint named Poelton but I did unearth the town's coat of arms. It's that snarly looking wolf you see here. Pörtschach lies on the alpine lake Wörther, thus the fish with what looks like a leaf in its mouth. It's interesting to note that the wolf was passed down to St. Poelton from the abbey of Passau when St. Poelten was one of its fiefs in the 1500's. The abbey had a wolf in its coat of arms.
I knew the bible story about the multiplication of loaves and fish but I didn't realize that Ichthys, the Greek word for fish, is also an acronym describing Jesus: Iesous Christos Theou Yios Soter, Jesus Christ, Son of God, Savior. Now I ask you, shouldn't St. Poelten have a fish on its coat of arms instead of that rabid wolf?



Pörtschach doesn't have it's trip together yet. The doubles draw is actually a copy of the singles draw so we don't know what doubles teams are entered. Qualifying ends on Sunday, the same day that first round matches start and after the deadline for choosing our eight player team, 10am Sunday morning. That means we won't have the full draw when we make our picks. You can bet that when Almagro was a qualifier I picked him. Besides, I'm not sure Lapentti can beat anyone at the moment let alone a qualifier.
What's the matter with you people at Pörtschach, don't you know there are fantasy tennis players out here desperate for that information???
Sometimes that first victory gets into a player's mind. A player can start thinking about what he did to win that tournament instead of what he needs to do in the current match.
I have Oliver Marach over Vince Spadea because Marach is Austrian and Spadea has yet to get past the first round on his current trip to Europe.
Wow, there's not much to choose from if you're putting a team together. Very few of these players have done much this year. Two players I like very much are Nicolas Alamagro and Nikolay Davydenko but they'll meet in the third round. Almagro beat Davydenko in Rome but only because Davydenko had to retire. It's important to remember that this tournament is at the bottom of the pile in terms of prize money. First prize is $44, 100 which is quarterfinal money at a Master Series event and Davydenko could easily get to the quarters at a slam. So, even though Davydenko beat Melzer for this title last year, Almagro it is.
Chela should have an easy road to the quarterfinals.
Horna hasn't done anything since he won at Acapulco. That was his first career win. Sometimes that first victory gets into a player's mind. A player can start thinking about what he did to win that tournament instead of what he needs to do in the current match. He thinks his mind is in the present but it's not, it's still trying to reproduce that victory instead of focusing on the technique that got him where he is.
I used to have a similar problem when I was training in Alexander Technique. Alexander Technique teaches you how to change movement habits and improve your posture. One of the guiding principles in the technique is to allow your neck to be free so that your head can move forward and up and your back can lengthen and widen. This allows you to move in a light and easy way. I kept trying to recapture that light and easy feeling by copying the movement that gave me the feeling but I couldn't do it. Instead, I had to go back and use the guiding principle that produced the feeling in the first place.
If I chose my team from my quarterfinals predictions the players would be Davydenko, Almagro, Melzer, Chela, Seppi, Muller, Simon and Hewitt. I can't pick Davydenko so I have to pick an eighth player from the third round. Even after everything I said, I'm picking Horna. Has he figured out how to move forward? I hope so.
As always, feel free to join our subleague, tennisdiary.com, and don't hesitate to add a comment/opposing opinion.

Average Rating:
4.4
out of
5
based on
292
user reviews.