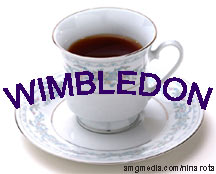 The first week's play at Wimbledon wound down Saturday evening, amid cooler temperatures and cloudy skies.
In my last posting I made winning predictions for Rafael Nadal and Marat Safin. Both are now gone. So let me say first off, bring forth to me more fine players, yea, that I may jinx them too!
Both men lost to players they should have beaten. Nadal is pretty new to grass, and was not expected to go far. Safin though had been playing well in the first two rounds. But in Feliciano Lopez he ran across a guy who is actually comfortable on grass, for a Spaniard. Safin could just not find a comfort level he could play in to beat the lefty Lopez. He had a good run though this year, and should be feeling better now about playing on grass in the future. At least he kept his cool.
The top guys kept moving through the draw. Roger Federer donated his first set of the tournament to Nicholas Kiefer, but then recovered to beat him rather easily in four sets. Andy Roddick gets crisper and sharper with each round. He looks like he intends to make that final. So let me stick my head out of the foxhole yet again and predict that it will be Roger and Andy in the final, and Roger will win it all. He is not as picture perfect yet as he could be, but he will probably peak at just the right time.
The British public were collectively gnashing their bad teeth over the performance of Tim Henman. They already had him dead and buried practically before he walked off the court after losing to the Russian Tursunov. But a new hope has arisen in the person of teenager Andy Murray, an energetic player who should have a good future on grass here. It doesn't matter that he is actually Scottish, the Brits will take him anyway. They have tended to adopt that sometime Brit Greg Rusedski, and would even get behind a guy like Alexander Popp, whose heritage is mixed German/British. The Brits are that desperate for a new god, so that they may pick him to pieces in coming years. I would advise the kid's parents though to think about sending their child to some fine American tennis family, or perhaps a Spanish one, so that he can grow up outside of the spotlight of the British public, which tends to scrutinize their athletes to death. They do tend to eat their young, those Brits. Andy enjoyed a good run, and was up two sets on David Nalbandian. But even teenagers run out of steam, apparently, as the Argentine came back to win in five sets.
The hot story over the weekend on the women's side of the world was all about the upcoming confrontation of Venus and Serena Williams. But oldtimer Jill Craybas probably said enough of all THAT talk, and decided to celebrate her 31st birthday (on July 4th) a little early. She beat Serena in straight sets. Craybas is a tiny little squeak at 5'3″, but she is as fit as a fiddle. She used that weapon to run Serena from side to side, and basically made Serena play her game. As Mary Jo Fernandez pointed out in the booth, she forced Serena to become tentative in her movement, and it carried over to her being tentative on her groundstrokes.
Serena probably needs now, in addition to healing her body, to ask why she so stubbornly persisted in playing at Wimbledon. Her father Richard was quite vocal that she should not have stepped onboard the airplane. Her ankle and knee were both bothering her throughout her matches, and on top of that she contracted flu. Sometimes as an athlete you need to power yourself through difficult patches. Sometimes though you just need to know when to turn that power off. Serena kept persisting though. Hopefully she can make better choices in the future. She is still a superwoman, but she needs to realize she is not the only one out there now, and listen to her body better in the future even if she is not going to heed the advice of her dad.
Well, now for the dicey stuff. More predictions!
On the men's side, Roger Federer will most likely beat Juan Carlos Ferrero in three sets. Ferrero has had long matches throughout, it feels like a struggle for him. But I for one am happy to see him back and playing pretty good on his least favorite surface. "Gonzo" Gonzalez of Chile will beat back the Russian Youzhny, Tursunov will upset Grosjean, Roddick will send Coria hustling back to clay, Max Mirnyi will serve his way past Thomas Johansson, Nalbandian will win fairly easily over Richard Gasquet; Hewitt will make a big dent in Dent, and Lopez will upset Ancic.
The Women: Lindsay will have a routine victory over Clijsters (you see, I really DO like Davenport's chances); Kuznetsova will punish Maggie Maleeva, likewise Mauresmo over Likhovtseva; Myskina will lose a tight three-setter to Dementieva; the surprising Mary Pierce will crush Pennetta, as will Petrova over Peschke and Sharapova over the Frenchwoman Dechy.
And finally, Venus Williams will revenge Serena's loss to Jill Craybas.
Dark Horses: Mad Max Mirnyi of Belarus, by way of Brighton Beach, and Venus Williams.
So shoot me.
Average Rating:
4.7
out of
5
based on
240
user reviews.