Jim Rome is the rapper, the spoken word king of sports radio. Give him a subject and he flies with it. Sometimes I just have to tun in to check out his latest rant. Sometimes, though, he just pisses me off.
The soccer players Mia Hamm, Julie Foudy and Joy Fawcett retired this year. Hamm and Foudy recently played their last game at the Home Depot Center, a friendly against Mexico. It's the end of an incredible run of over 15 yearsthat includes two world championships and two Olympic gold medals. But Jim's rant on the subject took the form of "Who cares? Do you know any of their names? Who pays attention to soccer anyway?"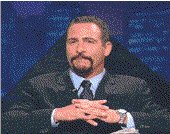 I didn't pay attention to hockey before the "miracle on ice" at the 1980 Olympics and I didn't pay attention to hockey afterwards. I didn't watch much soccer before the 1999 Women's World Cup final against China and I haven't watched much since. But those games are huge events in American sports. A completely sold out Rose Bowl saw the U.S. beat China on penalty kicks and win the World Cup in 1999. Womens' sports took a giant step forward and so did soccer in this county. More kids play soccer now than any other sport. Mia Hamm's name recognition is right there with Michael Jordan and Kobe Bryant.
There may be no women's professional soccer league and the NBA may have to support the WNBA for now. But I remember when professional baseball players had to get off season jobs to support their family. Womens' sports won't get established over night. It might take twenty years before we see reporters crowding around a WNBAor WUSA player on a nightly basis. That doesn't mean you can throw away the legacy of this group of players and their teammates. You don't get press in this country unless you've done something very bad or very good. The U.S. Women's Soccer Team has been very good for a long time.
Practice Report: I think I used to spend less time playing tennis before I injured my thumb and achilles heel. Here is my current rehab schedule, more or less:
1. ice my thumb and achilles heel twice a day
2. stretch and strengthen my thumb
3. strengthen my forearm to avoid tennis elbow
4. do three stretches for my shoulder and two stretches for my heel daily
5. shadow tennis and virtual tennis daily so I don't lose range of movement
6. go to the gym three times a week and do aerobics twice a week
Average Rating:
4.9
out of
5
based on
246
user reviews.