Join us for the men's Miami final! We'll be blogging live on Sunday, April 6th, at 10am (PST)/1pm (EST)/6pm (CET). Join in and we'll post your comments live.
Lindsay Davenport happily sent Ana Ivanovic home, Andy Roddick has big news, and a fight between Guillermo Canas and Fernando Gonzalez was interrupted by rudeness.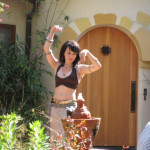 The sensuous art of belly dancing performed by Heather Shoopman (Photo by Nina Rota)
Motherhood
Lindsay Davenport returned to the WTA tour last fall after giving birth to baby Jagger and cleaned up on the minor circuit of Tier III and Tier IV tournaments – she won four of the five lower level events she entered. The Australian Open and Indian Wells didn't go so well though, so when she faced off against Ana Ivanovic in Miami yesterday, I predicted a straight set loss, but here she was up 3-0 in the first set and it would only get worse.
Ivanovic faded as the match went on and lost the match in straight sets by the somewhat shocking score of 6-4, 6-2. Let's give Davenport some credit. There are lots of players who hit the ball hard but Davenport was coached by Robert Lansdorp – as was Maria Sharapova – and he doesn't go for this wraparound your neck topspin crap. He trains you to hit through the ball and that means Davenport's balls go deep.
When someone asked Ivanovic if Davenport hits the ball as heavy as today's players, she said:
It's different. Because these days there are so many girls that are hitting really powerful, and they try to dominate the game. But with her it was different. She was playing also very deep, which other girls usually don't play as deep. So after the serve I felt straightaway under pressure. It was hard for me to direct the ball and control the court.
Ivanovic was caught again and again trying to pick up hard shots off the baseline but, like a few players these past few weeks, she was a step slow. Since we've been doing theories lately, let's call it the Middle East theory of exhaustion or, maybe, the Williams Sister's theory of relaxation. While WTA and ATP players were recovering from Dubai, the Williams Sisters took off for Bangalore in India then took off two weeks during Indian Wells for reasons that have been well chronicled in our pages.
Most of the top players who played Dubai and Indian Wells are floundering in Miami. Andy Roddick won Dubai and he's still alive here (see below) but he lost his first match in Indian Wells. David Nalbandian reached the semifinals in Indian Wells and lost his first match in Miami. Roger Federer passed through to the fourth round today after Robin Soderling retired and Federer reached the semifinals at Indian Wells but he lost his first match at Dubai. Soderling, by the way, retired due to heat exhaustion so the conditions aren't helping players either.
Novak Djokovic won the title in Indian Wells as did Ivanovic and they're both gone. So far nobody seems to resent Serena and Venus their two week vacation but then, these days, players never say anything remotely controversial, especially when it comes to other players.
I had one more thing to say about Davenport. I've been reading a book called Body, Mind and Sport by John Douillard. Douillard states that he can get you into the zone on a regular basis by teaching you to train at a lower heart rate thus keeping you relaxed, which is a prerequisite for getting into the zone. I haven't put many of the principles in the book into practice yet though I have started breathing through my nose while I play tennis – try it, it does keep your heart rate down – but I did wonder about Davenport while I was reading it.
If you're having fun, you are by definition relaxed and Davenport is having fun because she's getting a free pass. No one expected her to come back and she has no hard goals except, maybe, as she said after the match, to not look like a fool. She looked like she was in the zone at times during her match with Ivanovic. How can you get this feeling when you're Ivanovic or Djokovic or some other top tennis player? Do you have to learn exotic yogic practices to remain relaxed in stressful competitive situations or have a baby?
There are techniques that help you relax under stress and I imagine some of the top players have either stumbled upon them or paid to learn them from a sports psychologist. Davenport is getting them from a somewhat unusual situation and I'm jealous because I probably play with more angst than she does at the moment and, under the circumstances, that's pretty dumb. She did lose to Dinara Safina today so we'll see if happiness brings her a Tier I title at some point in the future.
Rules of Engagement
The only interesting news about Andy Roddick – besides poor serving in his win over Ivo Minar today in Miami – is the announcement of his engagement to model Brooklyn Decker. His tennis match wasn't anywhere near as momentous as that little bit of information.
I will say a few things about Minar. He's an annoying opponent somewhat like WTA player Anastasia Myskina used to be. Myskina is not likely to come back soon, by the way, unless she pulls a Lindsay Davenport (excuse me, Mrs. Leach, as it says on her tennis sneakers). Wow, there's marriage in the air today which reminds me: I went to a book publishing party at a fabulous house in Brentwood yesterday afternoon which featured one of the more sensuous belly dancers I've ever laid eyes on: Heather Shoopman. She performed at the party to honor the release of my friend Sarah Forth's new book, Eve's Bible. That fabulous house was jammed with arts and crafts objects from all over the world – everything from outsized Day of the Dead masks to tiny balancing figurines made from gourds.
The man and woman who own the house are now splitting up and as I walked around the house, I couldn't help thinking how difficult it'll be to split up such a trove of objects between two people who've lived together for years. All I'm saying is that Roddick should seriously consider a prenuptial agreement just in case he has to divide things up, you know, some time in the future. Oh, and he really should get a companion for his fiancée who was in the stands today. She looked rather like she didn't know what to do with herself.
Where was I? Oh yes, Myskina won't be coming back anytime soon unless she pulls a Lindsay Davenport because she's pregnant. When she was on the WTA tour, she'd drive you crazy because she never gave you any rhythm to work with. Minar is similar. He's not a small guy – he's 6ft (182cm), 187lbs. (85Kg) – but he plays like he's a small guy. He doesn't hit the ball hard, he just moves it around a lot to make up for lack of force and it gave him the edge on the baseline against Roddick and got him to the first set tiebreaker. Once he was there, though, he couldn't do much.
Having said that, Minar only lost the match by one break and he was able to get back on serve in the second set after losing his serve early. He hung around and hung around until he pissed Roddick off enough to send a ball into orbit but he just didn't have much in the way of offensive weapons. By the way, we won't get to see that Roddick – Jo-Wilfried Tsonga matchup because Tsonga went out tamely to Julien Benneteau. We may have to settle for Roger Federer – Roddick XVII in the semis.
Fighting
It was wild and crazy last night during the match between Guillermo Canas and Fernando Gonzalez. Gonzalez' Chilean fans were carrying on like this was a soccer match complete with flag waving and chants. The chair umpire quieted the crowd bilingually and he did it often. Not only that, but the linespeople kept making errors so the players weren't too happy either.
Gonzalez was playing intelligent tactical tennis. He knew Canas would rather stick a fork in his eye than come to the net so Gonzalez kept feeding him short balls until Canas had to come to the net then passed him. When Canas didn't move forward, the soft balls got him out of position and left him vulnerable to Gonzalez' power shots.
I was planning to look at how much Guillermo Canas' career has suffered from his drug suspension by comparing his pre and post-suspension career because it looked like he was headed for a loss – Gonzalez was about the close out the first set against him, but a bit of rude fan behavior intervened.
Gonzalez failed to cash in four set points and Canas crawled back to 6-6 in the tiebreaker. Gonzalez was then serving when someone yelled out in the middle of his service motion to intentionally disturb him. I suppose it's like those camera shutter going off in the middle of Tiger Woods' backswing. Gonzalez stopped his serve and spectators booed and pointed to the perpetrator. After restarting his serve, Gonzalez hit a forehand wide on the next point and, one point later, Canas had set point and the first set.
After the tiebreaker ended, the chair umpire called the ATP supervisor so they could find the guy who yelled and throw him out of the stadium. The perpetrator was too smart, though, he'd vacated his seat. On the one hand, the idiot who yelled out interrupted a tense, dramatic match and crossed the line from spectator to intruder. On the other hand, and this goes for golf too, tennis is sometimes just too precious. Baseball pitchers probably hear things they'd be embarrassed to repeat in the middle of their windup and NBA fans take pride in their ability to distract an opposing player at the free throw line.
For me the rules are the same as they are in a personal relationship. You can yell and scream and generally emote as much as you like, doesn't bother me. If you're mean or abusive, though, you're out the door. I'd love to hear chanting and screaming throughout a tennis match because I'd be thrilled that tennis was generating so much emotion. But if someone is verbally abusive or interferes physically in any way, they're out the door. That goes for much of the student cheering section at college basketball games in the U.S. these days, those students should be out the door too.
It was a fantastic match. Gonzalez hit an amazing between the legs netcord winner and Canas played his usual relentless defense, but Gonzalez' spirit never quite recovered from losing the first set. He did go up a break in the second set but he'd returned to his impatient self and was hitting out more than working his strategy. Canas managed to break Gonzalez twice late in the set to win the match, 7-6(6), 7-5
What do you think, shall we make tennis full volume or keep the polite silence?