If I had arrived in a Mercedes Benz, the organizers of the 79th Mercedes Benz Cup Tournament would have refunded my parking fee. Not quite motivation enough to run out and buy an E320 but a nice touch anyway. With one top twenty-five player in the field and only three seeds left after the first round, I'm sure the organizers would have offered E320's as doorprizes if their sponsor had been willing to donate them. Luckily for the organizers, the top seed, Andre Agassi, made it to the final and their tournament had the third largest crowd in its history.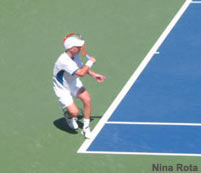 Agassi is returning to the tour for the first time since his painful exit at the French Open with a bad case of sciatica. He seems to have settled into a rhythm as the week has progressed dropping one set only to Paradorn Srichaphan. His opponent today is Gilles Muller of Luxembourg. Muller is the first Luxembourgian to get into the ATP top one hundred. Anne Kremer has been as high as eighteen and Claudine Schaul as high as forty-one in the WTA rankings. Not bad for a population of less than half a million.
If you want to go far on the tour, it's helpful to have a wide variety of strokes and at least one killer stroke. Either that or absurd left-handed spin like Rafael Nadal. Muller is left-handed but he's not a spinner, his ground strokes are relatively flat. Also unlike Nadal, he has a power serve.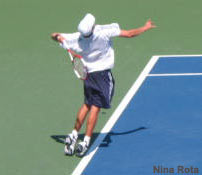 After you get all of the strokes, the next skill is to win the critical points. Agassi is going for his sixtieth title today, we know what he can do. Muller has yet to win a tournament though he did beat Agassi to reach the final of the Legg Mason Tennis Classic last year. Let's see how he plays the critical points.
Winning the first game is critical and Muller fails to do that. He sprays the ball long, wide and into the net to go down a break. He faces another break point in his next service game but gets out of it with an 86 mph second serve winner. Agassi is such a good returner that he usually takes a step inside the baseline for the second serve but here he backs up at least six feet behind the line for Muller's high kicker. It's his second service game and Muller already has five aces.
Muller uses the backhand slice to take the pace off Agassi's shots and shows a good drop shot. Somebody may have forgotten to tell him, however, that Agassi has one of the best backhands in tennis history because he keeps attacking it. Both players hold serve through the rest of the first set and Agassi wins it 6-4.
After you get all of the strokes, the next skill is to win the critical points.
The start of the second set is full of critical points as both players have trouble holding serve. Muller saves a break point with a good serve in the first game. He gets a break point in the second game but makes a backhand error and loses his opportunity. In the third game, he fights off three break points to stay even.
Muller hits three winners, including a beautiful drop shot approach, on Agassi's serve at 5-4 to get a set point. It's bad enough that he fails to get the next serve in play and loses an opportunity to even the match. Even worse, he loses the next game at love to allow Agassi to serve for the match. This is the mother of all critical situations and costs Muller the match. Agassi wins, 6-4, 7-5.
What is the critical point tally for Muller? He failed to win his first service game, failed to convert two break opportunities – one of which would have evened the match, saved five break points, and lost a super critical game at love. That's five for nine. Not bad but not good enough. Muller's critical point tally says more about Agassi than Muller. Agassi seldom puts himself in critical situations. He faced only two breaks points and needed only one break in each set to get his fourth Mercedes Benz Cup title.
Sometimes playing critical points well means avoiding them altogether.
Average Rating:
4.8
out of
5
based on
231
user reviews.