I wanted to do a comparison of two Roger Federer matches at the Pacific Life Open: Federer versus Mardy Fish, an opponent who probably thinks he can't beat Federer, and Federer versus Ivan Ljubicic, an opponent who thinks he has the best chance out there to beat Federer. They've already met in two finals this year and Federer struggled in both before winning.
After seeing Andre Agassi unsuccessfully try to beat Federer by attacking and ending points sooner in the Australian Open, I wanted to see what tactics a much lower seeded player would try. Unfortunately, the Federer-Ljubicic match was not televised here and my second choice, Agassi versus Lleyton Hewitt, another battle of interesting tactics, didn't happen because Agassi had a sore toe. Too bad really because he had his best match in a long time against Guillermo Canas.
Next I wanted to cover Andy Roddick and Lleyton Hewitt. I'm struggling with my own game at the moment. I'm still making the transition from constantly attacking to consistently getting the ball over the net and sometimes I can't do either. It doesn't help that my last league match was canceled due to rain and two of the remaining matches that weren't rained out are against the top ranked guy in my tier. I think I know what players mean when they talk about a lost season.
So I thought it would be a good idea to see if Roddick has made progress with his mental game. Hewitt outplays him mentally. Even Roddick's extended bathroom/clothing break in his match with Hewitt at the Australian Open didn't make any difference. Everyone gets upset when Hewitt celebrates their errors and does the lawn mower but Roddick also got upset because someone in the crowd was yelling during his service.
However, my VCR sat silent in the middle of the night because I mistransformed eastern standard time to pacific coast time. No Roddick-Hewitt.
Instead, we are going to see how Kim Clijsters managed to come back from 0-4, 0-40 to beat Lindsay Davenport in the final. How do you turn a match around when your opponent is pounding you?
Let's join the match with Davenport up 3-0 in the first set (that's when my VCR kicked in, don't worry, now I have a DVR). Even though this is Clijsters first final in a year – she injured her wrist in this tournament in 2004 then came back and injured a tendon in the same wrist – she is not panicking. Davenport beat Maria Sharapova 6-0, 6-0 in her previous match as shocking as that sounds. But Sharapova doesn't yet have the tactical intelligence or weapons to turn around a match that Clijsters has.
Davenport has been on a tear; her match record this year is 19-3. She's in such a zone that she can attack early in the point and keep the ball in the court or just scrape the lines.
One way to disarm an attacker is to attack first and since Davenport is going for winners early in the point, Clijsters goes for a winner off return of serve and gets a break point at deuce. This is not so easy because Davenport has three service winners and an ace in the game. Davenport keeps attacking off ground strokes and comes to the net four times before finally winning the game after four deuces and five ad points. She's won twenty-four straight games in this tournament but Clijsters is slowly climbing back into the match.
Clijsters is down 0-40 in the next game but pulls it out by getting 85% of her first serves in. Davenport's unforced error total is creeping up. Clijsters beat Davenport the last five times they played and she might be thinking about that as Clijsters wins her first game. Clijsters then breaks to get to 2-4 as she hits one return winner and forces errors off two other returns. Her strategy of attacking first is working; Davenport doesn't get to the net once in the game and she's starting to talk to herself.
Clijsters wins the next game at love after retrieving ball after hard hit ball and making Davenport hit one more shot. It must be discouraging for Davenport to pound the ball repeatedly and see it float back over the net just as often. After two good serves by Davenport, Clijsters steps up her attack and breaks Davenport to even the match at 4-4.
Clijsters wins the next two games to win the set. Davenport's is getting less than 50% of her first serves in and though she's still coming to the net, she's hitting a lot of ground strokes down the middle instead of going for the lines. She's lost six straight games after winning the first four.
Both players get a high percentage of their first serves in to begin the second set but Clijsters plays a bit too aggressively. Davenport breaks her in the third game and hits four winners in the next game to go up 3-1. Clijsters saves a break point to get to 2-3. Both are playing good tennis. Five out of six points end with winners as Clijsters pulls to 3-4. The next game is critical for Davenport; she can serve for the set on her next service game if she wins it. She survives two double faults and fights off three break points by getting 12 of 16 first serves in to go up 5-3. Both players hold serve and the match is even at one set each.
Each player holds serve for the first four games of the third set. There are fewer points in the games but the points are longer. At one point, Clijsters retrieves three very tough balls and floats a high floater back to Davenport who dumps it into the net.
Maybe Davenport is tired or maybe her attention is partially on the tour and partially in retirement. That might be just enough split attention to account for breakdowns and fadeouts at the end of matches.
Davenport contemplated retiring last year but she's been playing exceptionally well. She lost the Australian open final to Serena Williams, 2-6, 6-3, 6-0 and said that she may have been tired. She may be getting tired here. In the critical sixth game, Clijsters breaks Davenport to go up 4-2 as Davenport hits four unforced errors. If she doesn't break Clijsters in the next game, Clijsters can then serve for the match.
Clijsters throws in a dropshot and wins the next game. Things then go from bad to worse for Davenport. She double faults at deuce to give up a break point that is also match point. Clijsters wins the point and the match.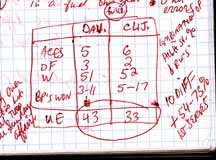 Clijsters won the match for a number of reasons. She attacked Davenport's serve and got six winners or forced errors from return of serve. Her first serve percentage was over 70%. She had 10 fewer unforced errors than Davenport and she played the critical points well. You would think that Clijsters might be the one getting tired and misplaying critical points, she's only played nine matches since she returned to the tour and she had to run around and do a lot of her patented sliding splits to retrieve Davenport's canon shots. But Davenport's been having problems at the end of matches. She lost the last set 6-1 to Serena Williams at last year's WTA Tour finals then lost the last set 6-0 against Williams at this year's Australian Open final.
The Pacific Open is a big tournament. It's a two-week event and both the men and women play. It takes tremendous dedication and tunnel vision to win big tournaments. Maybe Davenport is tired or maybe her attention is partially on the tour and partially in retirement. That might be just enough split attention to account for breakdowns and fadeouts at the end of matches.