Late one night I was driving around Hancock Park completely lost when I took an illegal u-turn and found my car pointed at a tennis court I'd never seen before. I thought I knew all the tennis courts in town. Next to the court was an old vine covered building. It looked like there might be one or two courts at most. Turns out that I had discovered the Los Angeles Tennis Club, an institution with great importance in the west coast tennis world. It has sixteen courts, not two, and a membership costs $12, 000 up front.
Back when tennis was a totally white bread upper class sport and tennis players were amateurs, the LATC was the place for the chosen to play. Jews and other outsiders had to play cross-town at the Beverly Hills Tennis Club. The coach at Beverly Hills was tennis great Pancho Segura, a superbly talented brown-skinned Ecuadorian.
Jimmy Connors grew up in East St. Louis, Illinois. His mother and grandmother raised him to have a chip on his shoulder. He was from the wrong side of the tracks and anyone who dared to step between him and victory was taking away his God-give right to the American dream. Never mind that his grandfather had been the mayor of East St. Louis and his mother had been a successful tennis player.
In his book, Jimmy Connors Save My Life, Joel Drucker recounts a story from Connors' juniors career. An opponent was concerned because he'd heard that Connors cheated on line calls. He decided to wait until Connors actually cheated before he called a linesman. While he was warming up for the match he heard Connors' mother ask Jimmy, "We hear this guy cheats. Do you want me to get a linesman?"
Connors' mother chose a coach for her son who had an outsider status she could relate to: Pancho Segura.
We know where Jimmy Connors learned to win tennis matches by any means necessary but what is Lleyton Hewitt's excuse? His parents seem to be perfectly nice people. They don't run onto the court after a match like Maria Sharapova's father, they haven't been banned from tournaments like Jelena Dokic's father, they don't hold up signs during the match or make incendiary comments to the press like Richard Williams. What is Lleyton's problem?
He applauds his opponent's errors, plays to his fanatical fans and ignores his opponent, he celebrates with the lawnmower and he flashes the vicht. Opponents have spat at him and tried to drill him on the fly with their serve. Even a gracious competitor like Andy Roddick took an illegally long clothing break in a grand slam semifinal to piss Hewitt off.
Didn't work. He's a runt. He's the kid who is too small and slams and smashes his way to the top to prove everyone wrong. He has the same attitude as Connors: there is my crew and there is everyone else. And everyone else is the enemy.
He is supremely combative, fighting drives him. Here is a guy who was the youngest man to reach the number one ranking, at age 20, dropped all the way back to a ranking of seventeen and recreated his game to get back to a solid number two. Before, he had to spin his serve wide to find an ace. Now he regularly busts aces down the middle. The only player in the top ten with more aces is Andy Roddick. He used to be allergic to the net. Now he attacks regularly.
Let's see how he gets into it with Guillermo Coria of Argentina in the 2005 Davis Cup quarterfinal in Sydney, Australia.
It starts out innocently enough. Serving at 1-1, 15-0, Hewitt hits a running passing shot down the line and lets out his first "come aaaaawn". Coria applauds the shot. Coria is pissed off but not at Hewitt. The Aussies have laid down a grass court on top of the Har Tru court and it's damp so Coria is slipping. He also probably doesn't appreciate the drug paraphernalia on the t-shirts worn by Hewitt's Fanatics, a reference to the suspiciously high number of drug tests by South American players, including Coria.
Hewitt is making a lot of errors and loses his serve in the fifth game. He may be feeling pressure because he's the only good Aussie player. His teammate, Wayne Arthurs, is not likely to beat Davide Nalbandian. Sad to say, given its illustrious history, Australia has only two players in the top 100.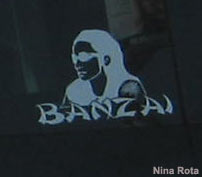 Serving at 5-4, 0-15, Coria hits a ball into the net and Hewitt comes out with another "come awn". Applauding an opponent's error, uh oh, the battle begins. Hewitt wins the game to get the break back and the set goes to a tiebreaker. At 4-4 in the tiebreaker, Hewitt approaches with an inside out forehand then hits a deep volley that forces Coria to put up a lob. Hewitt tracks down the lob and hits a passing shot down the line but Coria hits a beautiful slicing volley beyond Hewitt's reach. Coria immediately turns to the Argentinians in the crowd with a fist pump and a primal yell. No doubt to annoy Hewitt. Coria is a fighter, a willing combatant.
Hewitt wins the next two points then hits an inside out forehand that Coria can't return. The little guy has won the first set and here comes the lawnmower, the next maneuver in Hewitt's arsenal. Coria is disgusted, he was up a break and had four break points to go up 5-2 and has nothing to show for it.
The battle escalates early in the second set when Hewitt gets a break point in the first game with a beautiful drop volley and breaks out the vicht. In the second game, Coria gets a break point off his own on a cross court volley and celebrates by mimicking the lawn mower. Hewitt wins both games. He serves well, attacks frequently and hits only one unforced error to win the second set 6-1.
Even with his newfound attacking style, Hewitt is still not the kind of player to force the issue. He plays the same relentless game no matter what the score. This is a good thing if he's down, it means he never gives up. But it also means that he doesn't have another gear. He's up two sets, he should be tightening the noose. Instead, inexplicably, he can barely get the ball over the net. The crowd goes to sleep, there is a lull in the battle. Coria cranks up his game and takes back a set, 6-1.
I think I'm getting the picture here. If no-one is lobbing grenades at Hewitt, he falls asleep.
Coria should know by now. The more combative the match, the better Hewitt plays.
In the fourth set, the players are even at 2-2 when Hewitt shouts out another "come awn" at a Coria error. On the next point, Hewitt mimics swinging at a Coria ball that is long. Coria doesn't appreciate it and they have words. Doesn't he know he'd be much better off if he doesn't feed Hewitt any more ammunition?
If there is any doubt that Hewitt thrives on adversity, it is erased by watching the best game of the match. With Hewitt serving up a break at 3-2, 15-0, he hits a winning drop volley then stands at the net and salutes with the vicht again. Coria wins the next point with a lob that lands just inside the line then does his own vicht. At 40-30, Coria hits a great return down the line. Hewitt barely gets it back to Coria who hits drop volley. Hewitt reaches the ball and pops it up to Coria who smashes the ball right at Hewitt.
Coria exults and turns to the baseline before realizing that he should turn back towards Hewitt and put his hand up to apologize. We are not convinced. Hewitt then serves an ace wide, dismisses Coria with an upturned hand and tells him to f-off. Coria should know by now. The more combative the match, the better Hewitt plays. Hewitt wins the game and goes on to win the fourth set and match 7-6 (5), 6-1, 1-6, 6-2.
You can see why most of the tennis world calls Hewitt a jerk. Don't look for him to mellow out any time soon, though. Like Connors, he derives a great deal of motivation from pretending that the world is against him. It's driven him to a number one ranking and a very good Davis Cup record. Why stop now?
Average Rating:
4.5
out of
5
based on
235
user reviews.