A quick note explaining why I'm in recovery from Halloween and why you should join us tomorrow to look at the Paris final.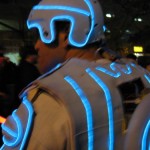 I'm supposed to write today but I haven't been able to recover from Halloween. I went to the West Hollywood Halloween Street Party last night to see the show and a show it was – thousands of people, rolling DJ platforms, two stages, plenty of dressed up Sarah Palins (many, of course, in drag), a few John McCains, an entire band of medieval Samurai, and a neon superhero. Not sure I'd go again, though. It took an hour and a half to find a bus and just as it got close to my destination, some sadly drunk person threw up all over the bus. Anyway, I'll be writing tomorrow instead and that's not so bad because I'll cover the Paris final and whoever wins it gets the eighth and final place in the year end championships. In the semifinals today,
David Nalbandian
hung on to beat
Nikolay Davydenko
in three sets and
Jo-Wilfried Tsonga
just smashed
James Blake
. I certainly didn't expect Nalbandian to be anywhere close to a Shanghai appearance after his mixed results earlier this year even though he almost pulled it off late last year and ended up one ranking place out of the running. I hoped against hope that Tsonga would recover from his perennially injured status long enough to put a serious run of tournaments together and he has. It's not very often that the last match of the regular season means this much so join me tomorrow to look at what happened. Whaddya think, Nalbandian or Tsonga?