You know how some times you work too hard and you lose your inspiration, your creative well runs dry? It could be too much time figuring out how to install a wireless router so you can use your laptop in the dining room or too many hours looking up the head-to-head records of obscure players in the US Open draw who've never played each other any way or too many phone calls to customer support to find out why they never received the receipt that shows you really did pay your property taxes even if it was a few months late. When your inspiration is low and nothing comes out when you sit down to write, it's time to go out on the town.
McEnroe said it: "…she is the single most important person in the history of women's sports."
I started out Saturday night at a parking lot party for the Carmada (as in armada) Project. It was a caravan of driving art modules in a cold storage facility in downtown Los Angeles. In addition to a Saab that looked like an orange orb with stage smoke spilling out of its windows and a pickup truck with a cactus garden in its bed, there was a woman sitting on a fifty foot long path of sewed together quilts making peanut butter and jelly sandwiches.
Sunday night I went to Sunset Junction in Silver Lake. It's not your usual street fair, most street fairs consist of food booths selling food you could easily buy without going to a street fair, but Sunset Junction focuses on music. As soon as I stepped into the gate I stood in a crowd listening to Dave Alvin and the Guilty Men whose name suggests what they are, a blues band. Alvin is the singer and the lead guitarist and he's just knock-down good at what he's been doing for many years, the singing and the playing and the stories just flow from this guy.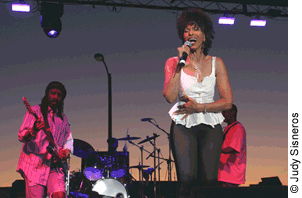 After that I wandered to the other end of the fair and hooked up with my friends known to me as the "girl gang" to see Nona Hendrix. You can see a picture of her here. I love you Nona! She used to wear space age costumes and lounge around the stage with Patti LaBelle and the Blue Belles. She had the whole street jumping and we were all trying to move our hips like her sexy backup singers. I always feel out of place at the Junction because I'm too squeamish to get a tattoo and there was a woman next to me with seven or eight inch dark red nails curled around her fingers. Not my thing but I loved the crowd and the show and, best of all, I was re-inspired. My little writing notebook was starting to fill up again.
But the best was yet to come. Monday night was opening night at the U.S. Open and I had a front row seat to a huge television variety show featuring every tennis player who ever mattered to me including Jimmy Connors, God love him, with a handshake and kiss for everyone. Connors and John McEnroe were kidding with each other and Chris Evert, Venus Williams, and Martina Navratilova were in the house. Most of all, so was my choice as the number tennis player of all time, Billie Jean King.
Yes, it has finally happened, the USTA National Tennis Center is now officially called the Billie Jean National Tennis Center and every one was there to celebrate. I'm not sure why Billie Jean didn't ask Elton John instead of Diana Ross, who sang God Bless America, to come to the ceremony. I remember Billie Jean spending some time waggling her bum as a backup singer with Elton's band. On the other hand, I can't quite see Elton John singing God Bless America. It's not quite like Jimmy Hendryx singing the Star Spangled Banner but it's close.
I had a wonderful time and I'm telling you, I was in tears as Billie Jean walked out onto the court. I stood up and gave her a standing ovation in my little office here in Los Angeles. McEnroe said it: "…she is the single most important person in the history of women's sports."
I never burned my bra but that's because I never needed to wear one. But, even though my boyfriend at the time had season tickets in the front row along the third base line at Fenway Park, I missed the sixth game of the 1975 World Series – the one where Carlton Fisk hit a twelfth inning home run for the Red Sox to send the series with the Cincinnati Reds to a seventh game – so I could go to a meeting of the Massachusetts Feminist Federal Credit Union. That should demonstrate my feminist credentials. Billie Jean was one of our leaders. She took tons of crap as a public symbol of the feminist movement for beating the male chauvinist piggy Bobby Riggs and breaking away from the tennis establishment to create a separate women's tennis tour.
But we weren't just there to see Billie Jean King. It was also the first match in Andre Agassi's last run at the US Open. What else can be said, sports is entertainment and no one was more entertaining than Andre Agassi. Agassi played Andrei Pavel after the ceremony.
It is also Martina Navratilova's last run at the U.S. Open.
And, possibly, Lindsay Davenport's last run. That's sad because Lindsay just dropped out of the top ten which must be the first time since Billie Jean King and Gladys Heldman started the women's tour in 1970 that no U.S. woman is in the top ten. But then, really, it just means that Billie Jean's influence has spread out so far that women everywhere play the game. In the U.S. Open draw there are nine women from Russia, two from China, one from Taiwan, one from Serbia-Montenegro, one from Austria, nine from France… anyway, you get the picture.
As the ceremony ended and a plaque for Billie Jean was unveiled by the mayor of New York, Aretha Franklin was there in voice only singing "all I'm asking is for a little respect when you come home, yeah baby, when you get home. R-E-S-P-E-C-T… " Billie Jean did a high-five circuit of the stadium and it was time for some tennis.
As Andre walked out to start his match, a fan held up a sign that said "Andre's House." True, tonight it is, but it is now, and will always be, Billie Jean's house too.
See also:
Billie Jean Gets What She Deserves
Los Angeles Says Goodbye to Andre.