Baghdatis had the momentum, he had the shots, he had the defense, he just didn't have the gas.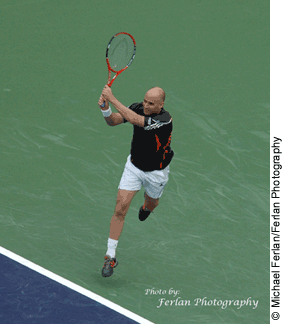 Damn I wish I'd been in Andre Agassi's bedroom in whatever luxurious New York hotel room he woke up in this morning. Not because I lust for his body, I don't, he's not my type at all, but I would like to know if he woke up with the same shooting pain he had after his match with Andrei Pavel that led him to get a second cortisone shot in two months for a bulging disk. I can make a good guess because he was limping after last night's five-set marathon with Marco Baghdatis, a titanic match that was so good it will overtake the Agassi-Blake semifinal for the favorite rainy-day filler.
Both players were dressed in Spider-Man shirts and shorts courtesy of Adidas as Agassi got out to a two sets to none lead while Baghdatis seemed to sleep-walk through the match. Baghdatis finally got a break in the third set to win it but Agassi was up 4-0 in the fourth before Baggy started breaking him down. One break, two breaks – after a missed overhead during the second break to the crowd's delight, Baghdatis squatted down, crossed himself and flashed the biggest smile in the world, the show was on and he was taking in every bit of it – then a third break and it was time for another five set match for the 36-year-old body and its owner, Agassi, who was losing momentum quickly.
But there was more if you were paying attention, Baghdatis had started to rub his quads and in the fifth set, the cramps arrived in full force. You could say Baghdatis was as heroic as Agassi who took a needle for the match, here he was hitting shot for shot with Agassi despite barely being able to stand up, but it's closer to say that Baghdatis' conditioning finally let him down when it counted the most. It's o.k to be lax about conditioning in circuit events, they're three setters, Baghdatis has always counted on adrenaline to carry him through the five setters at slams, but now he has to get serious. Baghdatis had the momentum, he had the shots, he had the defense, he just didn't have the gas. It wasn't just Agassi who limped off the court, Baghdatis joined him in pain.
Wow, but what a show it was. The younger version of Agassi against the old guy on his last legs hitting the ball every bit as well as his young self. Which brings us to Agassi's next match with one B. Becker as in Benjamin Becker. Tennis diary readers know Benni well and one reader in particular, Bruno, wondered why I picked Filippo Volandri over Becker in the first round especially considering that Volandri lost in the first round of every hard court tournament he entered in 2005. Bruno was right, I was wrong, but I don't think either of us expected Becker to defeat Sebastien Grosjean and even if we did, not by 6-1, 6-2 in the last two sets.
When I spoke with Becker in Los Angeles he said his goal was to get into the top 100 by the end of the year. I assume another goal was to win a second round match in a circuit tournament. A third goal might have been to reach the second round at a slam. Done, done, and done. Time for a new list.
What's the big attraction? Residents of the Bahamas pay no income tax.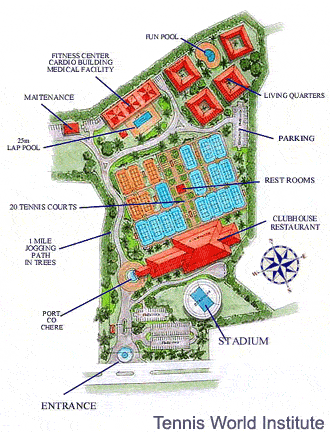 Becker's prize? A Saturday prime time match-up on television with Mr. Agassi. Becker has a chance because Agassi might have run out of effective medical options. After the match last night Agassi said:
…we're making some adjustments now, some anti-inflammatory options. Believe me, I'll exhaust all possibilities short of taking too many risks for long term. I do want to make sure I give myself the best look here, but I don't want to compromise the rest of my life.
A second cortisone shot in two weeks falls into the category of risk for the long term, cortisone is a steroid that has serious side effects and Agassi has already taken more shots than one body should. After the Pavel match, when someone asked him if he could last through the tournament Agassi said, "It would be the first time in a year if I manage to pull that off." He's talking about the U.S. Open last year where he reached the final against Roger Federer.
Either way Becker has lifted himself well into the top 100 with more publicity than he ever hoped for and possibly more than he might like. It's easier to sneak up on the field than have a coming out party in front of 23,000 rowdy and sometimes obnoxious New York fans, especially against their current hero.
Becker's coaches, however, must love the publicity. Jean-Luc Fontanot and Tarik Benhabiles (Roddick's first coach) manage a stable of players and they have big plans. Along with Norman Canter, Becker's agent, they are building a tennis complex in the Bahamas that will be a training center for ATP and WTA players. The complex is called Tennis World Institute on Grand Bahama Island and you can see here that it has everything you might need including five clay courts, fifteen hard courts, a stadium, a lap pool, a jogging path, a fun pool – of course – and something called a port-cochere. I am too uncouth to know exactly what that might be but Wikipedia tells me that it's literally a "carriage porch," a structure that provides cover so that you can alight from your car without having to deal with that stiff tropical breeze floating off the Caribbean.
When I spoke with Fontanot at the Los Angeles tournament, he said the group was in discussion with (un-named) tour pros who are interested in training at the facility. What's the big attraction? Residents of the Bahamas pay no income tax. Floridians pay no state income tax and that's nice but no income tax at all is that much better and you're just a puddle jumper away from West Palm Beach.
If you're considering relocating to the Bahamas, I hope you like tropical storms. Ernesto passed over the Bahamas and is on its way to New York. The Billie Jean King National Tennis Center, how happy I am to say that, doesn't have a port-cochere, its stadium is roofless, but whether the Agassi-Becker match goes on as scheduled tomorrow or gets moved back by Ernesto, I just can't wait.
See also:
Benjamin Becker's Journey to the ATP
Becker and the NCAA
Los Angeles Says Goodbye to Andre