U.S. tennis is turning out players, they just don't happen to be American.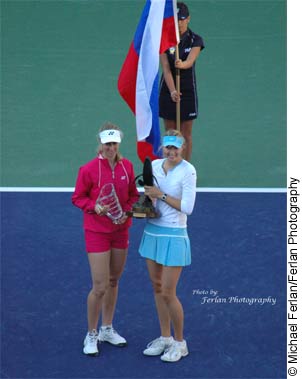 When a person puts an X in the box next to the word Caucasian, they are aligning themselves with Europe and Asia. The word Caucasian comes from the Caucasus Mountains which, with the Ural Mountains, form the border between Europe and Asia. I was always confused about this because the Caucasus Mountains wander through Russia so does that mean Russia is part of Europe or Asia? The answer is that the western part of Russia, Moscow included, considers itself European and the rest of Russia considers itself Asian.
What about Maria Sharapova, is she an Eastern-European? She was born in Russia but she's lived in the U.S. since she was seven years old. Then there's Tatiana Golovin. She was born in Moscow, moved to France and now lives in Miami. When we say that tennis in the U.S. is slipping because there are no women in the top ten and the men aren't filling up many grand slam final slots, that's not totally accurate. U.S. tennis is turning out players, they just don't happen to be American. These players train in the U.S. – often from an early age – it's just that they don't carry a U.S. passport.
And even if they didn't come to the U.S. at an early age, they might play tennis at a U.S. university. More than fifty percent of the top male NCAA tennis players are foreigners. Benjamin Becker, a German who beat Andre Agassi in the last match of Agassi's career and got all the way to the Tokyo semis this week, spent four years at Baylor University.
Three of the four semifinalists in Stuttgart this week are Eastern-European if you count Golovin. Svetlana Kuznetsova and Nadia Petrova are the other two. Why are there so many Eastern-Europeans on the tour and why do Russian women make up half of the top ten?
If you want to make money as a female athlete, you can play tennis, golf, basketball, volleyball or go into track and field. You could also be a bowler. This year Kelly Kulick became the first woman to qualify for the Professional Bowling Association tour. And Michelle Wie is doing her damndest to qualify for the PGA tour. But there aren't so many golf courses in Eastern Europe. There are beaches in Russia but Russia is the largest country in the world. Going to the beach there is not like hopping a plane to Florida from Chicago to play a little volleyball.
You could play basketball if you're tall enough, many of the Eastern-European women on the WTA tour are certainly tall enough, but there's not a lot of money in it. The average WNBA salary is around $50,000. Serena Williams wouldn't go halfway to Dubai for less than four times that in appearance money alone.
Not many hundred meter races give out a fire engine red Porsche along with first prize money as they do at the Porsche Tennis Grand Prix – the name of the tournament here in Stuttgart. While we're at it, see if you can give me the name of a famous Russian female track athlete. I can't think of one either but I did think of a famous Russian tennis player: Anna Kournikova.
I'm not suggesting that Eastern-European women are only in it for the money, I'm suggesting that they're smart enough to choose the most lucrative sport with the best press coverage that lets you travel all over the world.
The fourth semifinalist in Stuttgart is Patty Schnyder. She's currently ranked number nine and needs to get to number eight to qualify for the year end championship in Madrid. That shouldn't be too difficult. Tennis-X reports that half of the top fifteen WTA players are out with injuries – wait a minute, how do you divide fifteen in half? Anyway, Amelie Mauresmo pulled out of Stuttgart with a shoulder injury and Golovin got a walkover when Elena Dementieva strained a quad muscle. Kim Clijsters, Justine Henin-Hardenne, Maria Sharapova, Lindsay Davenport, and Serena and Venus Williams are all out for one reason or another. At this point, Schnyder could end up ranked number fifteen and still get to Madrid because so many people in front of her could drop out due to injury. Hell, I might as well get a ticket to Madrid and see if they can use me.
Why are there so many injuries? Let's go over it again:
The new racket technology is hard on a tennis player's body because there is greater shock to their system when they hit the ball.
Women players usually start on the tour when they're teenagers and sometimes start in their early teens. By the time they reach their twenties, they can wear out physically.
The off-season is too short.
There are too many tournaments in too many parts of the world.
This last issue is a place where I disagree with Tennis Magazine's Peter Bodo. He thinks the number of tournaments the WTA requires you to play doesn't add up to a big workload, it's the players who wear themselves out by running all over the world chasing money and ranking points. But the tennis season is set up to make it a long haul. The first part of the year is preparation for the Australian Open with the spring and summer for the other three slams. That leaves the fall for grabbing enough ranking points to get one of the eight positions in the year end tournament. Who in their right mind doesn't want to be one of those eight players?
As for the off-season, it's even shorter for the Russian and Argentinean men this year. The Davis Cup final between those two countries starts on December 1st so they have less than a month off. That's ridiculous.
Both semifinals in Stuttgart followed the same line of action. Golovin, playing against Schnyder, and Petrova, playing Kuznetsova, both won the first set easily, lost the second set, then held on to win the third set and the match. Petrova beat Golovin in straight sets to take the title and that beautiful red Porsche.
Eastern Europeans won two of the three tournaments last week. Alona Bondarenko from the Ukraine won the title in Luxembourg and Anna Chakvetadze from Russia won the tournament in Guangzhou. Don't look for this trend to change any time soon. A wild card named Iroda Tulyaganova from Uzbekistan made it all the way to the finals in Tashkent – where on earth is that? – this week before losing to Sun Tiantian of China. If Uzbekistan can turn out tournament finalists, can't the U.S. states of Alabama or Tennessee do the same thing?
Name me one player with a one-handed backhand who's had wrist surgery.
Here is a trend I would like to change immediately. The women's final in Tokyo this week was the first final in WTA history featuring two players who hit two-handed off both sides. Marion Bartoli hit enough awkward two-handed shots to beat Aiko Nakamura and take the title.
I cringe when I see players hit two-handed volleys. A two-handed forehand escalates that cringe into a full-on upset stomach. It's not a new thing, Monica Seles won nine grand slams with two hands on both sides, but I'm afraid it's a monster that will multiply.
With the powerful rackets players use today, the focus has turned away from the development of an all-court game with the occasional use of touch into a monster slamfest where each player stands on the baseline and hits the ball as hard as she can. Technique is reduced to using whatever stroke gets the most power no matter how ugly it looks.
Besides looking ugly, it's an error to think that you can hit the ball harder with two hands than one. The one-handed backhand will generate more power because it has a greater range of motion than a two-handed backhand. You can swing the racket much further. And anyway, tennis instructors teach you to hit the two-handed backhand, if you're right handed, by swinging the racket with your left hand only. The right hand should be used for balance, not power. So you're essentially hitting the ball with your weak hand through a shorter range of motion. That gives you the worst of both worlds.
Don't get me wrong, I hit a two-handed backhand. I have no choice, whenever I hit a one-handed backhand I get tennis elbow. But I wouldn't do if I had any other choice and most of us can at least choose a one-handed forehand.
One last comment about all of this and I'll shut up. Name me one player with a one-handed backhand who's had wrist surgery. Then tell me the names of players with two-handed backhanders who've had wrist surgery. I can think of two right away: Jimmy Connors and Kim Clijsters.
If you can think of others, either one-handed or two-handed, who've had surgery, you know what to do: leave a comment.
See also: State Of The Women: The Serve, The Nerve, The Size