When Croatia won the Davis Cup last year, Ancic ran around the court shedding his clothes as though he was ridding himself of all past disappointments.
This was a nerve wracking day for James Blake. If Mario Ancic managed to beat Nikolay Davydenko in his quarterfinal match today, he'd jump over Blake in the race for the last spot in the year-end tournament in Shanghai. Blake is in this predicament because he lost to Dominik Hrbaty, of all people. Wait a minute, Hrbaty beat Tomas Berdych today. Damn, Berdych was my last chance to move up in my fantasy team subleague. What is Hrbaty taking these days anyway?
Unfortunately for Ancic, Davydenko is a human backboard. He's an exceptional returner and gets everything back, but he's not a counterpuncher in the style of Lleyton Hewitt. Davydenko's balls come back a lot harder. And he's a grinder. This is his thirty-first event of the year and he was the only player qualified for Shanghai who turned up here.
Ancic is a big server with that Croation windup serve used by both Goran ivanisevic and Ivan Ljubicic. Ancic likes to come to the net and finish points as quickly as possible. This was a fascinating matchup of Ancic's power versus the energizer bunny consistency of Davydenko.
The difference in styles between Ancic's and Davydenko's game is echoed in their physical makeup. Ancic is a tall, excitable guy with a headful of unruly black hair. When Croatia won the Davis Cup last year, Ancic ran around the court shedding his clothes as though he was ridding himself of all past disappointments.
Davydenko is a smaller balding man who is stoic and rather dour. You rarely see him smile and he's been known to respond to a question at a post-match media sessions with the following expansive answer: "That's a stupid question." After hitting a winner against Ancic early in the match, his face looked hostile rather than pleased in the slo-mo replay. I worry about the guy, does he actually enjoy playing tennis or is this a battleground of some sort for him?
A big serve is fine as long as it goes in. Serving at 3-3 in the first set, Ancic lost the rhythm on his serve and made two ground stroke errors to lose the game. When Ancic served to stay in the set at 3-5, he missed four straight first serves and gave Davydenko the first set. I can imagine that made James Blake smile.
Ancic didn't know whether to stay at the baseline and shoot it out with Davydenko, a losing proposition, or go to the net and take the chance of getting passed. But he was down a set and having trouble holding serve so he had no choice. At 2-2 in the second set, he started coming in on his return at every opportunity so he could cut off Davdenko's ground strokes and avoid those dreaded long rallies
Ancic kept approaching. Serving at 3-4, he hit a shot that sent Davydenko wide to the ad court. Most players in the universe would have gone crosscourt with a passing shot but Davydenko somehow managed to angle the ball into the court and down the line past Ancic.
Davydenko won that game and the next to win the match, 6-3, 6-3. Blake no doubt let out a big sigh of relief but it's not over yet. If Tommy Haas wins this tournament, he jumps over Blake too.
The battle here was not a question of strategy as much as which player would self-destruct first.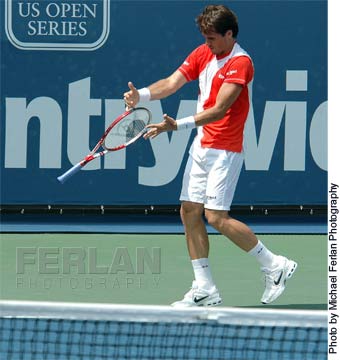 Haas and his opponent today, Marat Safin, have similar personalities. They're both popular with the ladies – one discerning spectator hung a banner offering to marry Safin but only if he won – and they both blow up on the court. Safin berates himself and Haas berates himself and anyone else who happens to be in the vicinity.
The battle here was not a question of strategy as much as which player would self-destruct first.
Safin earned that distinction. He hit a silly unforced error in the first set tiebreaker and quickly found himself down 0-3. Then he hit a return into the net and there went the racket, not once, but twice into the carpet surface. That must have warmed Haas' heart. Nothing is better that seeing your opponent blow up when, often as not, you're the one that blows up first.
This is a quintessential example of Safin's problem. It explains perfectly why he has only two grand slams despite having the most powerful game on tour. If you lose your temper, an entire set can go down the drain in a heartbeat. Safin lost the tiebreaker 7-1.
His difficulties continued in the second set. He slammed a ball to the backboard after hitting a ball long but Haas bailed him out. Serving at 3-4, Haas hit a few unforced errors and smashed a ball of his own then hit a double fault to give Safin the opportunity to serve for the set. Maybe it's asking too much but shouldn't Haas have learned something from watching Safin? Jeez, they deserve each other.
Safin won the game and the battle of the petulant children continued on to a third set. Haas regained his composure and remembered his first set strategy – hit a lot of backhand slices to dull Safin's power. Case in point: with Safin serving at 1-2, Haas hit a backhand slice that stayed so low all Safin could do was slice it back. Haas then hit a forehand at such an angle that Safin ended up hitting a shot around the net post as his feet slid out from under him. The ball barely missed the sideline. A few more slices and Haas had the break and served out the set for a 7-6(1), 3-6, 6-3 victory.
James Blake will now have to sweat out the semifinals and, possibly, the final. This is almost as exciting as the NASCAR Chase for the Championship except that we don't have players throwing debris onto the court hoping to injure their opponent – Robby Gordon was fined $15, 000 for throwing rollbar padding onto the track at the Atlanta Motor Speedway last week.
Two more rounds to go.
Correction: James Blake lost to Tommy Haas. What can I say, it's late in the season, I need a vacation.
See also:
2006 Paris Masters: The French Armada
2006 ATP Fantasy Tennis: Paris Masters
Average Rating:
4.8
out of
5
based on
192
user reviews.