If you think a one-handed backhand has more reach than a two-hander, you might be surprised.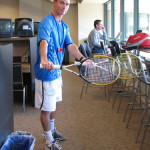 When I walked into the Media Center here at Indian Wells yesterday morning, I ran into Andy Fitzell. I first met him at the now defunct San Diego WTA event last August and he confused me when he casually mentioned that the two-handed backhand has more reach than the one-hander. I hadn't seen him since and I certainly never figured out how that could possibly be true.
Andy should know what he's talking about. He's a tennis coach, researcher, and one of the owners of The Vic Braden Tennis College. He sets up his motion capture equipment at courtside to record tour players then uses the video to analyze their strokes. To see why Ana Ivanovic is the top seed at Indian Wells, look at Andy's analysis of her hammer of a forehand.
Ana's skeletal body looks like any other motion capture figure. It looks like she put on a bulky bodysuit with various sensors attached to it and a computer downloaded the sensor data and created the skeletal 3d figure you see. To see how motion capture works, look at this footage of soccer star Ronaldinho doing some dancing, juggling, and a few things that, believe it or not, he doesn't do so well.
And Ivanovic did not agree to put on one of those bulky body suits, however, and neither did Roger Federer or David Nalbandian or any other top tennis pro. Andy sat down and inserted the sensor points frame by frame and that's a huge amount of work.
All the more reason we should pay attention to him. Luckily the two-hander/one-hander issue doesn't require anything nearly as complex. All we need is two tennis rackets. Put a racket in each hand and position one of them where you'd make contact with the ball for a one-handed backhand, and the other where you'd make contact with the ball for a two-handed backhand. Andy is demonstrating this in the photo above.
The two-hander meets the ball later and the racket is farther away from the body – it has further reach. If you're lunging for a ball, you need a one-hander because you end up twisting your body to reach with the racket, but that's why we have the one-handed slice. The one-handed volley is better at the net than that ugly two-hander because you often have to lunge, but on most shots, the two-hander has a lot of benefits.
We've been wringing our hands and squawking non-stop on this site about the death of the late and lamented one-hander. All is not lost because young players like Richard Gasquet have beautiful one-handers, but the two-hander is a solid shot that makes sense so I hereby declare that I will never whine about it again. Two-handed volleys, though, that's another matter. There's no way around it: they are just plain ugly.
Average Rating:
4.4
out of
5
based on
269
user reviews.