David Nalbandian hung around long enough to win one of the weirder matches of the year at Indian Wells.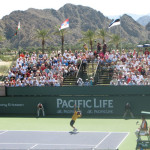 What kind of personality could go down 5-2 in the first set then win it in a tiebreaker, lose the second set 6-0, go down a break in the third set, and yet still win the match? Let's call it the Nalbandian Personality Type.
I was sitting in the Media Center minding my own business here at Indian Wells when I saw that David Nalbandian was down 4-1 in the first set to Radek Stepanek. I considered going over to Stadium 3 to see what was going on but why bother, Nalbandian often loses the first set and, besides, he soon came back and won it in a tiebreaker. Then he lost the second set 6-0 and I got my butt over there rather quickly.
Understandably, Nalbandian was a bit disturbed. Early in the set, Stepanek put a lob over his head that landed on the baseline and Nalbandian did not agree with the call. Stadium 3 doesn't have Hawkeye so Nalbandian wandered over to the stands and discussed it with a few people there instead.
I can see why Stepanek took that second set; he was still making beautiful shots when I got there. He made an excellent passing shot from deep in the corner and he got a break point at 2-2. Nalbandian calmly bounced the ball on the edge of his racket to show how unaffected he was by the whole thing, served up the ball and got himself to the net. He had Stepanek on the run and got an open court – all he had to do was hit a crosscourt volley – but he couldn't, he hit the ball long. Stepanek had his break.
That point is Nalbandian's game in a nutshell. He has the calm of person who treats each moment the same and he has exceptional tennis skills. He puts himself in position to win but you're never sure that's the reason he's out there. That's been the arc of his career too. He hung around for years getting to semifinals and finals yet he only had five tour titles coming into the fall of 2007. Then, after suffering through injury and malaise for most of the year, he won two Masters Series events in a row after never having won a Masters Series event and he beat Roger Federer in both tournaments to do it.
Stepanek must be an opposite personality type to Nalbandian. He's cagy and he'll do anything to win including unnerving his opponent if he can find a way to do it. When the players were changing sides in the third set tiebreaker, Stepanek jumped over the net and walked directly to the baseline instead of wandering over to his chair to get a drink. It was his not so subtle way of saying that he was in better shape than Nalbandian.
Nalbandian got to that tiebreaker with one of those exceptional tennis skills – he hit two good returns to get back on serve and went up a mini-break in the tiebreaker with another good return. It's an impossible question to ask: How much of a tennis victory is won by your mind and how much by your tennis skills?
You can't answer it absolutely but you can compare players and comparing these two I'd say that Nalbandian leans more on his game and Stepanek more on his mind. What I mean is that Nalbandian puts himself into position to use his tennis skills by staying calm – which is arguably a mind skill – and Stepanek depends a bit more on strategy and mind games.
Stepanek had six aces in that 6-0 second set and he hit three service winners and a second serve ace in the tiebreaker which took him all the way to 6-6. Nalbandian then hit a service winner of his own and a passing shot and the weird match with the double momentum swing was over. Nalbandian had done it again.
Courtesy Car
Apropros of nothing, as I left to go to dinner, I saw a guy walk out with a backwards tipped cap carrying two tennis bags. He was by himself and he walked up to a tournament courtesy car, threw his bags into the trunk of the Mercedes S.U.V. and drove away. At first I thought it was Federer and, in fact, it was. No entourage, no driver, just the keys to the car. I guess that's the sign of superstardom. You don't get a shuttle back to your hotel, you get your own car.
Average Rating:
4.6
out of
5
based on
243
user reviews.